dr. C.J.P. (Christophe) Lembregts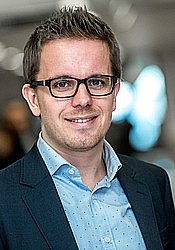 Rotterdam School of Management (RSM)
Erasmus University Rotterdam
Dr. Christophe Lembregts investigates how consumers process numerical information and how it affects decision making. By building on research on numerical cognition, linguistics and decision making, he aims to advance knowledge of how consumers construct evaluations based on numerical information and which contexts increase consumers' reliance on numerical information.
He published his research in international journals such as the Journal of Consumer Research, Journal of Consumer Psychology, Journal of Marketing Research and Journal of Economic Psychology. He is the recipient of various grants such as a FWO doctoral grant from the Belgian government and a NWO Veni grant from the Dutch government. Dr. Lembregts obtained his PhD at Ghent University (Belgium) and joined Rotterdam School of Management in 2015.
Dr. Lembregts teaches "Marketing Management" (BA 1 and 2), "Customer Experience Management" (MA) and coordinates the "Honours Class in Marketing Management" (MA).
Publications
Article (9)
Academic (8)

Professional (1)

Lembregts, C. (2019). Do we really Understand the Numbers we Receive? RSM Discovery, 36.
Additional activities (1)
Journal of Consumer Research (Journal)

Editorial work (Academic)
Event (1)
Research Seminar
As: Speaker
Award (1)
---
Address
Visiting address
Office: Mandeville Building T10-16
Burgemeester Oudlaan 50
3062 PA Rotterdam
Postal address
Postbus 1738
3000 DR Rotterdam
Netherlands