E.A.W. (Eric) Slob MSc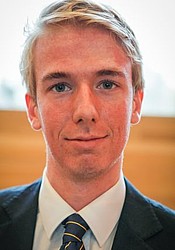 Erasmus School of Economics (ESE)
Erasmus University Rotterdam
ERIM PhD Candidate
Field:
Strategy & Entrepreneurship
Affiliated since 2016
PhD Track Integrating genetics into economics
Due to recent and spectacular breakthroughs in genetics research, the future of economics will be heavily influenced by insights into genetic determinants of behaviour and life outcomes. Erasmus University Rotterdam is at the forefront of these new developments. In this PhD project, the candidate will take the next step attempting to integrate genetic insights into economics.
First, the candidate will analyse to which extent different socio-economic behaviours and outcomes can be explained using genetic factors, and whether tahey are related on the genetic level. Next, the candidate will include genetic factors in existing economic models to analyse the value added for economists of taking into account genetic differences between individuals. Lastly, the candidate will attempt to use genetic variants as instrumental variables in existing economic models to infer causality.
The candidate will work with data from many different sources, such as the Health and Retirement Study, the Rotterdam Study and the UK Biobank. The outcome of the project will consist in a number of research papers that will form the contents of the PhD dissertation.
The candidate is a member of EURIBEB, the Erasmus University Rotterdam Institute for Biology and Economic Behaviour (http://www.euribeb.nl).
EURIBEB conducts interdisciplinary and collaborative research on the intersection of biology and (economic) behaviour. Its research has been published in high-impact journals such as Science, Nature and PNAS. EURIBEB has prominent affiliated researchers from different EUR faculties (such as Economics, Erasmus MC and Social Sciences) and other universities (such as the Vrije Universiteit Amsterdam, Stockholm School of Economics, and University of Southern California).
Keywords

Behaviour; Economics; Genetics; DNA; Mendelian randomization; Socio-economic behaviour; Socio-economic outcomes

Time frame

2016 -
---
Address
Visiting address
Office: Tinbergen Building H08-29
Burgemeester Oudlaan 50
3062 PA Rotterdam
Postal address
Postbus 1738
3000 DR Rotterdam
Netherlands