Prof. F.J. (Fabian) Sting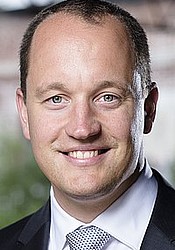 Full Professor
Rotterdam School of Management (RSM)
Erasmus University Rotterdam
Member ERIM
Field:
Logistics & Information Systems
Affiliated since 2010
Prof. Dr. Fabian Sting is chaired professor of Digital Supply Chain Innovation at Rotterdam School of Management, Erasmus University (part-time). As main affiliation, he holds the chair of Supply Chain Management – Strategy and Innovation at University of Cologne, Germany (see here). His research and teaching interests are in the areas of Operations Strategy, Supply Chain Innovation, and Project Management. His work revolves around the question of how organizations can implement, reinforce, and shape their strategy by innovating their operations. Specific topics include:
Manufacturing technology strategy and Industry 4.0
Managing change initiatives and collaborative projects
Employee behavior in agile operations and projects
Frontline product and process innovation and shopfloor employee ideation
This research has been published or is forthcoming in leading academic journals such as Academy of Management Journal, Management Science, Production and Operations Management, Journal of Operations Management as well as in premier practitioner journals such as Harvard Business Review, and MIT Sloan Management Review.
He teaches courses on undergraduate, graduate, and executive levels. For his courses "Operations Management" and "Primaire Processen" Fabian Sting received multiple teaching awards.
Collaborating with the business schools IESE (Spain), INSEAD (France) and WHU (Germany), he serves as Academic Director of the Industrial Excellence Award in Europe (see here).
Before joining RSM Fabian Sting was Postdoctoral Research Fellow at INSEAD's Technology and Operations Management Department and visiting scholar at Northwestern University. He holds a Doctorate from WHU and graduate degrees in Management Science (KU Eichstätt-Ingolstadt) and Applied Mathematics (FU Hagen).
Publications (28)
Articles (20)
P. Schneider & F.J. Sting (2020). Employees' Perspectives on Digitalization-Induced Change: Exploring Frames of Industry 4.0. Academy of Management Discoveries, accepted (forthcoming).

C.H. Loch, F.J. Sting, A. Huchzermeier & C. Decker (2012).

Fairness zahlt sich aus. Harvard Business Manager, October

(Oktober), 1-8.

C.H. Loch, F.J. Sting, D. Stempfhuber & A. Huchzermeier (2012).

Das Prinzip der Roten Karte. Harvard Business Manager, 2011

(January), 44-51.

H. Kuhn & F.J. Sting (2005). Bestimmung von Losgrößen, Transportzyklen und Sicherheitsbeständen in mehrstufigen Wertschopfungsketten. In Operations Research Proceedings 2005. Berlin: Springer
Book Contributions
F.J. Sting, M. Braun & A. Huchzermeier (2010). Simulationsstudie: Exogene Risiken in der Beschaffung - Zusammenspiel von Diversifikation und Flexibilitat. In Supply Management Research: Aktuelle Forschungsergebnisse 2009 (pp. 147-171). Wiesbaden: Gabler
Professional Publications (7)
C.H. Loch & F.J. Sting (2009, januari 1). A Seismic Shift in the Car Industry: The Management Challenge and Responsibility. Automotive Industries, pp. 70.

F.J. Sting (2009). Flexible Sourcing—Operational Hedging, Diversification and Contracting under Supply and Demand Uncertainty. In BVL 26. Deutscher Logistik-Kongress Berlin. Berlin: DVV Media Group
PhD Tracks (2)

Role: Member Doctoral Committee
PhD Candidate: Xishu Li
Time frame: 2013 - 2019

Role: Member Doctoral Committee
PhD Candidate: Timo van Balen
Time frame: 2014 - 2019
Recognitions (16)
Editorial positions (10)
Decision Sciences

Ad Hoc Reviewer

European Journal of Operational Research

Ad Hoc Reviewer

IEEE Transactions on Engineering Management

Ad Hoc Reviewer

International Journal of Production Research

Ad Hoc Reviewer

Management Science

Ad Hoc Reviewer

Operations Research

Ad Hoc Reviewer

Organization Science

Ad Hoc Reviewer

Production and Operations Management

Ad Hoc Reviewer

Production and Operations Management

Associate Editor

International Journal of Production Economics

Ad Hoc Reviewer
Organization Memberships (5)
Institute for Operations Research and the Management Sciences (INFORMS)

Member

German Operations Research Society (GOR)

Member

European Operations Management Association (EUROMA)

Member

Production and Operations Management Society (POMS)

Member

Academy of Management (AM)

Track Chair
Side positions
European Industrial Excellence Award (www.industrial-excellence-award.eu)

Academic Director and Jury Member
Award (1)
ERIM Top Article Junior Award

(2016)
---
Address
Visiting address
Office: Mandeville Building T09-43
Burgemeester Oudlaan 50
3062 PA Rotterdam
Postal address
Postbus 1738
3000 DR Rotterdam
Netherlands