J. (Jeroen) Vester MSc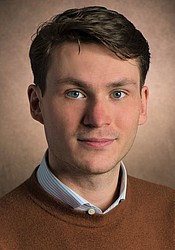 Erasmus School of Economics (ESE)
Erasmus University Rotterdam
ERIM PhD Candidate
Field:
Logistics & Information Systems
Affiliated since 2018
PhD Track Real-time Synchromodal Planning
We propose this research aligned with one of the main targets of the United Nations in the 2030 agenda for sustainable development. One of these main goals aims at strengthening the means of implementation and revitalization of the global partnership for sustainable development. This objective encourages multi-stakeholder partnerships that mobilize and share knowledge, expertise, technology and financial resources to support the achievement of the sustainable development goals in all countries.

The Netherlands, and in particular the port of Rotterdam, are perfectly positioned for the handling of large volumes of cargo. On the seaside, the port's strategic location in North-west Europe, its unrivalled depth and the large-scale container handling facilities definitely give Rotterdam an edge over the competition. Decisive, innovative companies have already been optimally utilizing these advantages for decades. For the hinterland transport of deep-sea cargo throughout Europe, the comprehensive networks of rivers and railway lines constitute major trump cards as well, with a huge capacity for sustainable transport.

Use of real time data in transport planning with fixed connections (like trains, shortsea and ferries) is limited. Despite the presence of such data in large scale provided by ferry and train companies, the online planning still remains a complex task to tackle in practice. Online planning using real -time data is even more complex in the context of synchromodal transport for freight. Recently, several research projects have introduced decision-support algorithms and heuristics to solve logistics problems synchromodal logistics systems. However, the existing algorithms are not real time. As a result, they do not consider the benefit of self-learning mechanisms in case of disturbances.

This research project aims at two main targets:

1) Develop a real-time synchromodal planning algorithm capable of solving real case problems.

2) Integrate self-learning mechanism to introduce recovery strategies in case of small-scale disturbances.
---
Address
Visiting address
Office: ET-04
Burgemeester Oudlaan 50
3062 PA Rotterdam
Postal address
Postbus 1738
3000 DR Rotterdam
Netherlands