dr. L.P. (Luuk) Veelenturf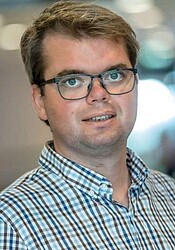 Rotterdam School of Management (RSM)
Erasmus University Rotterdam
Member ERIM
Field:
Logistics & Information Systems
Affiliated since 2007
Luuk Veelenturf is an Associate Professor at the Department of Technology and Operations Management. His research interests lie mainly in the area of real-time transport and mobility operations, with a specific focus on public transport planning, railway disruption management, city logistics, vehicle routing & pickup and delivery variants and data-driven transport operations. A large part of Luuk's research focuses on sustainable transportation and algorithms to support logistics-related decision making. This is increasingly important, as delivery times and volumes increase. As it is impossible to wait until all information has been collected before decisions are made, smart analytics will become more important. By improving systems and schedules, Luuk aims to make public transport a more attractive and sustainable alternative to car transportation and make city logistics more efficient, thereby reducing CO2 emissions and congestion.
Publications
Conference proceeding (3)
Academic (3)

Hong, X., Meng, L., Zhang, P., Zhao, F., D'Ariano, A., Veelenturf, L. P., & Corman, F. (2020). Timetable Rescheduling with Reassignment of Rolling Stocks and Passengers under Disruptions. In 2020 IEEE 23rd International Conference on Intelligent Transportation Systems, ITSC 2020 [9294675] Institute of Electrical and Electronics Engineers Inc.. 2020 IEEE 23rd International Conference on Intelligent Transportation Systems, ITSC 2020 https://doi.org/10.1109/ITSC45102.2020.9294675

Singh, PM., Veelenturf, L., & Van Woensel, T. (2020). Modeling Complex Business Environments for Context Aware Systems. In Enterprise, Business-Process and Information Systems Modeling. (Vol. 387, pp. 242-256). Springer. https://doi.org/10.1007/978-3-030-49418-6_16

Veelenturf, L., Kroon, LG., Maroti, G., & Nielsen, LK. (2012). Passenger Oriented Disruption Management in Railways. In S. Voss, & J. C. Munoz (Eds.), CASPT CASPT.
Editorial (1)
Academic (1)

Pel, J., Agatz, N., Macharis, C., & Veelenturf, L. (2018). Technologies and control for sustainable transportation. Transportation Research Part C: Emerging Technologies, 86, 168-170. https://doi.org/10.1016/j.trc.2017.11.006
Report (4)
Academic (4)

Dollevoet, T., Huisman, D., Kroon, LG., Veelenturf, L., & Wagenaar, J. (2015). An Iterative Framework for Real-time Railway Rescheduling. (EI report serie EI2015-28 ed.) Econometric Institute. EI report serie Vol. EI2015-28

Cacchiani, V., Huisman, D., Kidd, M., Kroon, LG., Toth, P., Veelenturf, L., & Wagenaar, J. (2014). An Overview of Recovery Models and Algorithms for Real-Time Railway Rescheduling. (EI reprint reeks EI-1617 ed.) Econometric Institute. EI reprint reeks Vol. EI-1617

Cacchiani, V., Huisman, D., Kidd, M., Kroon, LG., Toth, P., Veelenturf, L., & Wagenaar, J. (2013). An Overview of Recovery Models and Algorithms for Real-Time Railway Rescheduling. (EI report serie EI 2013-29 ed.) Econometric Institute. EI report serie Vol. EI 2013-29

Veelenturf, L., Potthoff, D., Huisman, D., & Kroon, LG. (2009). Railway crew rescheduling with retiming. (EI report reeks EI 2009-24 ed.) DEPARTMENT OF ECONOMETRICS. EI report reeks Vol. EI 2009-24
PhD Track (1)

Role: Co-promotor
PhD Candidate: Ehsan Aghamohammadzadeh
Time frame: 2022 -
Events (2)
Research Seminar
As: Contact, Coordinator
---
Address
Visiting address
Office: T09-05
Burgemeester Oudlaan 50
3062 PA Rotterdam
Postal address
Postbus 1738
3000 DR Rotterdam
Netherlands