Dr.Ing. M.A. (Martin) de Bree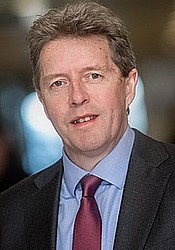 Rotterdam School of Management (RSM)
Erasmus University Rotterdam
At Rotterdam School of Management, Martin de Bree is researcher. He is a renowned scholar in the area of regulation and governance, meta regulation, system based regulation, self regulation, compliance management, public and corporate governance. His main research focus is on the interface between public and private parties with regard to law and regulation. 
Publications (20)
Articles (5)
M.A. de Bree (2010). Hoe landelijke inspectiediensten omgaan met systeemtoezicht. Tijdschrift voor Toezicht, 3.
Book Contributions
M.A. de Bree & J.M.D. de Haas (2017).

Using Management Systems in Environmental Supervision.

In L.C. Paddock, D.L. Markell & N.S. Bryner (Eds.),

Compliance and Enforcement of Environmental Law

(ELGAR ENCYCLOPEDIA OF ENVIRONMENTAL LAW, Volume IV) (pp. 33-45). Abington UK: Edward Elgar Publishing
Doctoral Thesis
M.A. de Bree. Waste and Innovation. Technical University Delft ( BerghauserPont Publishing) Prom./coprom.: S.C. Santema & J.C. Brezet.
Professional Publications (13)
M.A. de Bree (2020). To Mars on a Bike; Images of Regulation. In N. Pfeffermann (Ed.),

New Leadership in Strategy and Communication

(pp. 15-25). Switzerland: Springer Nature Switzerland AG doi:

10.1007/978-3-030-19681-3_2

M.A. de Bree & M. Dees (2019). Complexiteit vraagt om een andere manier van regels maken. TPC: tijdschrift voor public governance, audit & control.

C.T. Budding et al. & M.A. de Bree (2019). Rechtmatigheid: Regels en Bedoelingen. In TPC: tijdschrift voor public governance, audit & control.

M.A. de Bree (2016). Certificatie en overheidstoezicht; Twee werelden zoeken voorzichtig toenadering; Safety! 3.

M.A. de Bree (2016). De promotiegroep Modern Toezicht. Tijdschrift voor Toezicht, 2.

M.A. de Bree (2015). Understanding Compliance Management: Opening the Black Box of Self-regulation. In Special Report on Next generation Compliance. INECE

M.A. de Bree & H. Ruessink (Ed.). (2015). Innovatng Environmental Compliance Assurance. Washington DC: INECE

M.A. de Bree, J.M.G. de Haas & P. Meerman (2015). Can supervision and enforcement networks make self-regulation work? In M. Faure, P. de Smedt & A. Stas (Eds.), Environmental Enforcement Networks; Concepts, Implementation and Effectiveness. Edward Elgar Publishing

P. Meerman & M.A. de Bree (2014). Compliance Assurance through Company Compliance Management Systems. In L. Paddock & J. Wentz (Eds.), Next Generation Compliance and Enforcement. Washington DC: Environmental Law Institute

A.M.V. Stoopendaal & M.A. de Bree (2014). Evaluatieonderzoek Systeemtoezicht op kwaliteit en veiligheid in de zorg; Fase 1. Ontwikkeling van het instrumentarium en eerste ervaringen. (Extern rapport). : IBMG

M.A. de Bree (2014). Overheidstoezicht en Corporate Governance. In M. Luckerath-Rovers, B. Bier, H. van Ees & S.P. Kaptein (Eds.), Jaarboek Corporate Governance 2014-2015. Kluwer

M.A. de Bree (2013). Private Borging van Regelnaleving in het Omgevingsrecht. (Extern rapport). : Rotterdam School of Management; Erasmus University

J.C.M. Haas, P. Meerman & M.A. de Bree (2012). Compliance Assurance Through Company Compliance Management Systems. (Extern rapport). : IMPEL
Recognitions (2)
Side positions (2)
Stichting Bibliotheek Zuid-Hollandse Delta

Lid Raad van Toezicht

Stichting het Westervolkshuis

Lid Bestuur
---
Address
Visiting address
Office: Mandeville Building T11-53
Burgemeester Oudlaan 50
3062 PA Rotterdam
Postal address
Postbus 1738
3000 DR Rotterdam
Netherlands