dr. M.D. (Mirjam) Werner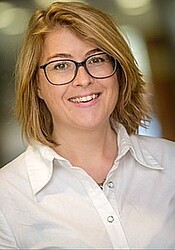 Rotterdam School of Management (RSM)
Erasmus University Rotterdam
Mirjam Werner is Assistant Professor in the Business-Society Management Department at Rotterdam School of Management, Erasmus University (RSM).
She holds an MSc in cultural anthropology from the University of Amsterdam, the Netherlands (2005), and a PhD in political science from the University of Leeds, UK (2011). Her research interests include social movements and political activism, framing and sensemaking, organizational change, organizational identity and culture, and emotions. Two of her current research projects concern social movements as motors of bottom up change within organizational contexts, on the one hand, and exploring the performative nature of emotions in social interaction (what do emotions do?), both intentionally and unintentionally, on the other.
Methodologically, and due to her anthropological background, she takes a qualitative and interpretive approach, and mainly focuses on the micro level of analysis. She also enjoys theoretical and conceptual work. Her research has been published in the Academy of Management Annals and Organization Studies.
Publications
Chapter (3)
Academic (3)

Punzi, M. C., & Werner, M. (2020). Challenging the Menstruation Taboo One Sale at a Time: The Role of Social Entrepreneurs in the Period Revolution. In C. Bobel, I. T. Winkler, B. Fahs, K. A. Hasson, E. A. Kissling, & T. A. Roberts (Eds.), The Palgrave Handbook of Critical Menstruation Studies (pp. 833-851). Palgrave Macmillan. https://doi.org/10.1007/978-981-15-0614-7_60

Cornelissen, J., Haslam, SA., & Werner, M. (2016). Bridging and Integrating Meta-Theoretical Perspectives on organizational identity: A social Interactionist Model of Organizational Identity Development. In M. Pratt, M. Schultz, D. Ravasi, & B. Ashforth (Eds.), Handbook on Organizational Identity Oxford University Press.

Crawford, G., & Werner, M. (2014). Participatory Democracy Initiatives in Europe: An Overview and Comparison. In M. Rijal (Ed.), Participatory Democracy. Practices and Reflections (pp. 109-133). Institute for Governance and Development Action Aid Nepal Publications.
Course (1)
Past
Advanced Qualitative Methods (2020/2021, 2019/2020)
---
Address
Visiting address
Office: Mandeville Building T11-41
Burgemeester Oudlaan 50
3062 PA Rotterdam
Postal address
Postbus 1738
3000 DR Rotterdam
Netherlands