Dr. N.M. (Nuno) Almeida Camacho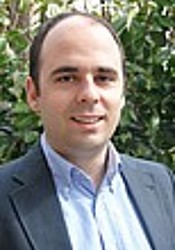 Erasmus School of Economics (ESE)
Erasmus University Rotterdam
Nuno Camacho is Associate Professor of Marketing at the Erasmus School of Economics (ESE) of the Erasmus University Rotterdam, The Netherlands. In hist research, Nuno builds econometric models aimed at better understanding consumer decisions. During his Ph.D. Nuno has focused on studying health-related decisions (i.e. patient and physician decision-making).
Nowadays, Nuno teaches (evidence-based) marketing strategy and continues to use behavioral modeling to study topics in marketing of innovations and marketing for the life sciences industry (e.g., patient and physician decision-making, adoption of new therapies, drivers of patient non-adherence, etc). Nuno also coaches master and doctoral students doing their research on these topics.
Publications
Article (8)
Academic (7)

Popular (1)

Stremersch, S., Almeida Camacho, N., & Donkers, B. (2011). Voorspelbare fouten van huisartsen bij medische beslissingen. Economisch-Statistische Berichten, 96(4612).
Chapter (3)
Academic (3)

Almeida Camacho, N. (2013). Patient Empowerment: Consequences for Pharmaceutical Marketing and for the Patient-Physician Relationship. In M. Ding, J. Eliashberg, & S. Stremersch (Eds.), Innovation and Marketing in the Pharmaceutical Industry: Emerging Practices, Research, and Policies (pp. 425-456). Springer. https://doi.org/10.1007/978-1-4614-7801-0

Betz, UAK., Almeida Camacho, N., Gerards, M., & Stremersch, S. (2013). Grassroots Innovation: A Promising Innovation Paradigm for Pharmaceutical Companies. In M. Ding, J. Eliashberg, & S. Stremersch (Eds.), Innovation and Marketing in the Pharmaceutical Industry: Emerging Practices, Research, and Policies Springer.

Almeida Camacho, N., Landsman, V., & Stremersch, S. (2010). The Connected Patient. In The Book on the Connected Customer: The Changing Nature of Consumer and Business Markets Routledge Academic. Psychology Press
Doctoral Thesis (1)
Internal (1)

Almeida Camacho, N. (2011). Health and marketing. Essays on physician and patient decision-making. Erasmus University Rotterdam. http://hdl.handle.net/1765/23604
Additional activities (2)
Marketing Letters (Journal)

Editorial work (Academic)

International Journal of Research in Marketing (Journal)

Editorial work (Academic)
Events (2)
Research Seminar
As: Speaker
---
Address
Visiting address
Office: Tinbergen Building H15-09
Burgemeester Oudlaan 50
3062 PA Rotterdam
Postal address
Postbus 1738
3000 DR Rotterdam
Netherlands