Dr. N.M. (Nuno) Almeida Camacho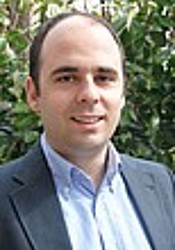 Erasmus School of Economics (ESE)
Erasmus University Rotterdam
Nuno Camacho is Assistant Professor of Marketing at the Erasmus School of Economics (ESE) of the Erasmus University Rotterdam, The Netherlands. In hist research, Nuno builds econometric models aimed at better understanding consumer decisions. During his Ph.D. Nuno has focused on studying high-stakes consumer decisions, especially health-related decisions (i.e. patient and physician behavior). On June 24, 2011 Nuno defended his dissertation "Health and Marketing: Essays on Physician and Patient Decision-Making".
In his dissertation Nuno used behavioral models to: 1) Propose a Quasi-Bayesian approach to measure
salience effects in physician learning about the quality of new drugs (and its effect on adoption timing) 2) Study dyadic decision-making and determine boundary conditions under which patient empowerment leads to higher patient adherence to physicians' advices 3) Study the moderating role of culture in patients' propensity to request treatments by their brand name.
At the moment, Nuno is working on several topics with the goal of combining state-of-the-art econometric models with theories from behavioral economics to develop novel approaches to the study consumer decisions, not only in healthcare and life sciences industries, but also in other industries. In terms of teaching, besides consumer decision-making, Nuno is very interested in topics related to marketing of innovations, adoption of innovations and marketing strategy. 
Publications (9)
Book Contributions (3)
N.M. Almeida Camacho (2013). Patient Empowerment: Consequences for Pharmaceutical Marketing and for the Patient-Physician Relationship. In M Ding, J Eliashberg & S Stremersch (Eds.), Innovation and Marketing in the Pharmaceutical Industry: Emerging Practices, Research, and Policies (pp. 425-456). New York: Springer

U.A.K. Betz, N.M. Almeida Camacho, M. Gerards & S. Stremersch (2013). Grassroots Innovation: A Promising Innovation Paradigm for Pharmaceutical Companies. In M. Ding, J. Eliashberg & S. Stremersch (Eds.), Innovation and Marketing in the Pharmaceutical Industry: Emerging Practices, Research, and Policies . Springer

N.M. Almeida Camacho, V. Landsman & S. Stremersch (2010). The Connected Patient. In The Book on the Connected Customer: The Changing Nature of Consumer and Business Markets (Psychology Press). New York: Routledge Academic
Recognitions (5)
Editorial positions (2)
International Journal of Research in Marketing

Ad Hoc Reviewer

Journal of Marketing Research

Ad Hoc Reviewer
Organization Memberships (3)
Institute for Operations Research and the Management Sciences (INFORMS)

Member

European Marketing Academy (EMAC)

Member

American Marketing Association (AMA)

Member
Events (2)
Research Seminar
As: Speaker
---
Address
Visiting address
Office: Tinbergen Building H15-09
Burgemeester Oudlaan 50
3062 PA Rotterdam
Postal address
Postbus 1738
3000 DR Rotterdam
Netherlands