S.G. (Sai) Kalvapalle MSc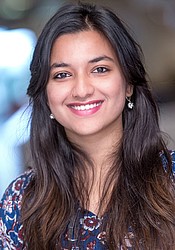 Rotterdam School of Management (RSM)
Erasmus University Rotterdam
Sai Kalvapalle is a PhD Candidate in the Department of Business-Society Management at the Rotterdam School of Management. She previously completed her MSc in Organisational and Social Psychology at the London School of Economics (LSE) with Distinction, and her Bachelor's in Psychology (Honours) at the University of Waterloo in Ontario, Canada.
PhD Track A Multi-Method Exploration of Sensemaking in Context
For her PhD research, Sai explores sensemaking, that is, how individuals and organizations deal with ambiguity, uncertainty, and breakdowns in routine, and manage to coordinate for action. As part of this investigation, she studies processes of cognition, communication, and the use of the body, space, and material artifacts. This project takes a multi-method, multi-level approach, exploring sensemaking from qualitative, experimental, and theoretical standpoints, and at the level of both the individual and organizational teams. Sai is particularly interested in how people make sense of digital environments, given that developers design these environments to enact organizational goals, while individuals enter the same environments with different goals, be they social, work-related, or need-based. Digital environments thus serve as fruitful empirical contexts for a re-examination of cognitive and decision-making processes.
Events (3)
Research Seminar
As: Coordinator
Research Seminar
As: Contact, Coordinator
Research Seminar
As: Coordinator
---
Address
Visiting address
Burgemeester Oudlaan 50
3062 PA Rotterdam
Postal address
Postbus 1738
3000 DR Rotterdam
Netherlands