Customer Information Driven After Sales Service Management: Lessons from Spare Parts Logistics
---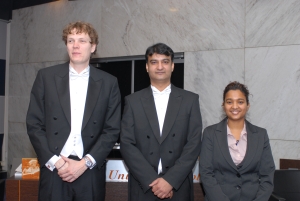 The growth of service level agreements has changed the business dynamics of after sales service providers. This is a complex task that required vertical and horizontal integration of maintenance service management, spare parts logistics management, as well as spare part returns management; after sales service also needs to account for varying service needs of heterogeneous customer bases with limited service resources at hand. In his PhD thesisCustomer Information Driven After Sales Service Management: Lessons from Spare Parts Logistics, Muhammad Naiman Jalil studies the changing business dynamics of after sales service and highlights how a customer information driven strategy can help service providers to meet expectations of a heterogeneous customer base, while generating additional value from their service operations. He finds that using customer generated information, namely the installed base information, is very beneficial in order to design, plan and execute after sales service operations. Jalil: "We're living in a globalised world, where products and services are often delivered through large scale supply chain networks. Service businesses are becoming more important and more complex. According to various estimates, services shall overtake traditional manufacturing as early as 2012 as a source of base revenue. Therefore, they will ultimately play a far more important role in any economy worldwide."
Muhammad Naiman Jalil defended his dissertation on 13 January 2011 at Rotterdam School of Management, Erasmus University (RSM). His promoter was Prof.dr. Leo Kroon, Professor of Quantitative Logistics at RSM. Co-promoter was Dr. Rob Zuidwijk. Other members of the doctoral committee were Prof.dr.ir. R. Dekker, Prof.dr. M. Fleischmann, and Prof.dr.ir. G.J.J.A.N. van Houtu.
About Muhammad Jalil
Muhammad Naiman Jalil (Pakistan, 1974) studied Metallurgical Engineering at the University of Engineering and Technology, Lahore. After the completion of Bachelor's degree, he started working as a process and product quality engineer at Treet Corporation, a leading razor blade manufacturing company in Lahore, where sharp edged razor blades are produced with utmost process and product quality. The process improvement projects at Treet Corporation inspired Muhammad and instigated curiosity in him towards best practices in Operations Management. The result was that he landed in New Jersey to pursue a Master's degree in Industrial and Systems Engineering at Rutgers, The State University of NJ, New Jersey, USA.
At that time, the White House Commission on Aviation Safety and Security had recommended a research programme to develop next generation aviation technologies to improve aviation safety and reduce aviation system risk. The Federal Aviation Administration (FAA) and National Aeronautics and Space Administration (NASA) were leading this effort by developing Aviation Safety and Security Program (AvSSP) Technologies. Muhammad joined the Centre of Advanced Risk and Decision Analysis (CARDA) at Rutgers University, where he contributed to the development of the Aviation System Risk Model (ASRM). NASA Langley Research Centre used ASRM to estimate relative safety risk reductions due to AvSSP technologies.
In 2006, he started as a PhD student at Rotterdam School of Management, Erasmus University. He became interested in supply chain management issues in service industries and extensively collaborated with IBM Service Parts Organization and IBM Zürich Research Laboratory for his research. The successful research collaboration with IBM resulted in journal articles, book chapter, and this PhD thesis. He has presented his research at major international conferences, such as the annual meetings of the Production and Operations Management Society (POMS), the European Conference on Operational Research (EURO), the Institute for Operations Research and Management Sciences (INFORMS), and the International Workshop of Distribution Logistics (IWDL). IBM benefited from this research collaboration with improved after sales service planning and state of art decision support system for after sales service execution.
Since October 2010, Muhammad has been associated with Suleman Dawood School of Business, at Lahore University of Management Sciences as an Assistant Professor.
Abstract of Customer Information Driven After Sales Service Management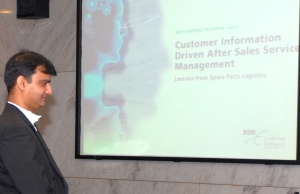 Over the years, after sales service business in capital goods and high tech sectors have experienced significant growth. The drivers for this growth are higher service profits, increased competition, and primary market contractions. The enablers for growth include information driven service processes and a move from "one size fit all" oriented warranty contracts to service level agreement offerings that differ in service prices and response guarantees. Although these trends provide an opportunity to the service providers to match their service resources to the time varying service requirements of a heterogeneous customer base, the tools and techniques to support decision makers are lacking as of to date. In this thesis, Jalil aims to make a contribution in closing this gap. He gained business environment related insights of after sales service by studying it at a major computer equipment manufacturer. After sales service is a complex task that is accomplished by making a series of strategic, tactical, and operational decisions in maintenance services management, spare parts logistics management and spare part returns management. Jalil exclusively focuses on operational and tactical decisions in spare parts logistics management. He identifies that customer information, or more specifically installed base information, is a valuable source to support spare parts logistics decisions at the operational and tactical levels. He presents an execution technique for spare parts logistics that uses installed base information to provide differentiated service to a heterogeneous customer base and results in additional profits for the service provider. Finally, Jalil studies execution decisions in spare parts logistics and spare part returns management for their interrelation. Here, he highlights that explicit consideration of this interrelation yields additional benefits.