Imperatives and incentives in future energy industry at Erasmus Energy Forum
---
Imperatives and incentives in future energy industry at Erasmus Energy Forum
Imperatives and incentives for bringing new energy technologies to market were identified and discussed by top representatives from business and academia at the second annual Erasmus Energy Forum in Rotterdam on Friday 21 June 2013.
It was organised by the <link research centres future-energy-business>Erasmus Centre for Future Energy Business and introduced by <link people wolfgang-ketter>Scientific Director Dr Wolf Ketter. The Centre is based at Rotterdam School of Management, Erasmus University (RSM) and it's one of the channels by which RSM makes research accessible to industry.
"By 2050, we will need about eight times the resources of one planet Earth. And as we don't have that, we must change our behaviour," Dr Ketter told the audience of 140. This is uncharted territory and neither industry nor academia can do it alone.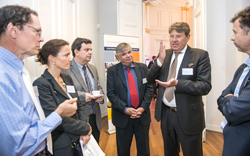 Moderator and MC was Sumit Bose, editor of the online energy industry magazine Energylive News. He set the scene by explaining the low carbon energy market faced difficulties not because of opposition to the concept, but because the change to a low carbon future driven by government causes costs to industry that will be borne by consumers. "New technologies will never be commissioned unless business can make money out of it. That's today's discussion," he said.
Speakers were:
Dr Jochen Kreusel, Head of Smart Grids at power and automation technology company ABB;

Kerstin Meerwaldt, Electric Mobility Strategy at BMW Group;

Dr Dirk Schlesinger, Global lead for Manufacturing Industries at Cisco Systems Inc.;

Volker Beckers, former CEO of Npower who also holds non-executive director positions with the UK government's HM Revenue & Customs tax department, and at Elexon Ltd, which plays a role at the heart of the wholesale electricity market;

Huib Morelisse, CEO of Dutch energy company NUON;

Prof. Shmuel Oren from the University of California, Berkeley; and

Dr John Collins from the University of Minnesota.
Also joining the panel question-and-answer sessions were Prof. Alok Gupta from Carlson School of Management, University of Minnesota; RSM's Prof. Gail Whiteman and Jessica Stromback, Executive Director at Smart Energy Demand Coalition.
What follows is a short report of the conference; for a complete report, see www.erim.eur.nl/energyforum2013.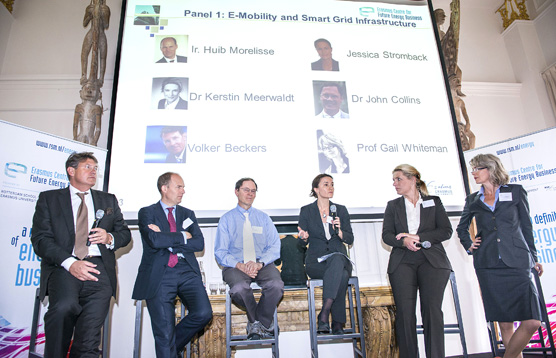 Short report of the conference
Experts described bringing such changes into reality through the 'smart' electrical grid, which co-ordinates demand and supply – including renewable energy. It already exists in the form of computer simulations such as the Powertac Power Trading Agent. But in order for it to work, consumers need to change their behaviour – and producers need to incentivise them. What's more, a clear, long-term and stable framework for moving forward is needed on government and city levels, if not across continents. And the audience was reminded that climate change is already at the point where this is inevitable.
Reducing personal CO2 emissions and using e-vehicles is possible without drastic changes in lifestyle. Smart metering helps by reducing costs and providing behavioural incentives. The forward-looking UK energy industry is dealing with challenges with varying degrees of success; its ideas could become blueprints for the rest of the industry, which is currently 'looking at the wrong incentives for changing behaviour and channelling investments' according to speaker Volker Beckers. He advocated a pan-European energy policy but doubted the political will and questioned current investment policies.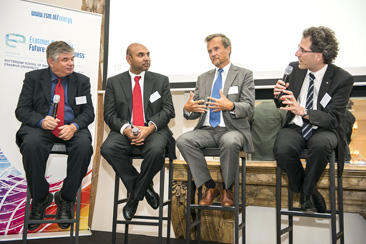 Two unique panels of experts answered audience questions about cyber-security, standards and regulatory infrastructure; 'prosumers', smart grids in developing countries and reducing carbon emissions without waiting for governments to lead the way. A second panel debated the affordability of smart home technology, and the emerging crossover between electricity service providers and telecom operators for the smart grid's IT infrastructure.
Afternoon sessions addressed technical and business relationships between customer and ecosystem. The physics of electricity mean it's difficult to store, so demand should follow supply, and technology for control metering is needed. What's more, the European market should be transparent from end to end on both wholesale and retail sides.
Challenges also come from the distances involved, balancing demand and supply, and finding the most effective way to move all stakeholders. Established standards and a dominant platform are needed before such an open, multi-tenant, multi-service smart grid becomes a reality, but this might be helped by the growth in use of personal digital devices, such as smartphones and tablets. The process should be a complete 'back to basics' rethink of the system – which is not possible without intensive co-operation.
Two new awards were presented for the best and most innovative sustainable business and research ideas.
Winner of the of the Erasmus Energy Business Award 2013 for the best innovative and sustainable energy concept or business model that contributes to improving people's lives, business success, and the planet is NomadPower B.V. based in Woerden in the Netherlands. The company supplies electricity to temperature-controlled road cargos via electricity connection points at cold storage facilities, and in designated park and rest areas along transport routes in Europe.
There were two winners of the Erasmus Energy Science Award 2013 for research which pairs practical relevance to future energy business and presents new findings with scientific rigour, because of the high-quality attributes of the two top nominees. They were Jurica Babić, Ivo Buljević, Sinisa Matetic, Tomislav Brisevac and Vedran Podobnik of the CrocodileAgent team from the University of Zagreb in Croatia, who are active in developing solutions for trading and visualisation in future energy markets; and Laura Ramírez Elizondo and Matthijs Spaan from the Delft University of Technology in the Netherlands who have developed methods for optimising the energy generation, distribution and consumption across whole districts, including electric vehicles.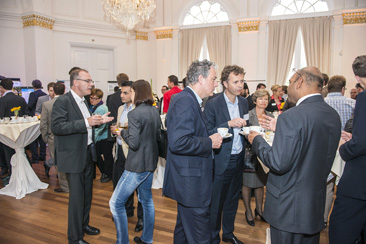 Nominations were invited from the public, and judges were Dr Ketter and Dr John Collins. "Nominations came in from all over the world. I'm delighted that top-quality businesses and researchers at the forefront of the industry are looking for recognition through the Erasmus Energy Forum network, in only its second year," said Dr Ketter. "Congratulations to our winners."
A full report of the Erasmus Energy Forum 2013 is available online at www.erim.eur.nl/energyforum2013.
RSM has developed a three-day open programme, Future Energy Business to give a more detailed background to the subject, which will run in December 2013.
Another Erasmus Energy Forum is planned for early summer 2014. If you would like to be notified when details are announced, please email energy@rsm.nl.