Erasmus University Rotterdam Ranked First in Research on Entrepreneurship
---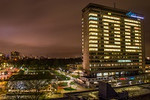 Jay Janney from University of Dayton, Steve Gove from Virginia Tech and Brett Paul Matherne from Georgia State University conducted an assessment of 25 Entrepreneurship Journals from 2007 to 2011. The results revealed that Erasmus University Rotterdam is the most productive University conducting research on entrepreneurship.
The value of this assessment, compared to similar studies, arises from the fact that authors used a newer rapidly growing metric for assessing journals quality, known as Author Affiliation Index (AAI). For measuring the AAI, 25 well-known entrepreneurship journals were used, such Journal of Business venturing, Entrepreneurship: Theory and Practice,  Journal of Small Business and Entrepreneurship and Journal of Small Business Management. In addition, a set of top tier schools was constructed. The list includes 62 Universities from the United States, Canada and Europe.
Results showed that the largest contributor in the field of entrepreneurship is Erasmus University of Rotterdam, which had the highest score in the AA index. This means that the measurement did not only prove the fruitful efforts by Erasmus University Rotterdam but also ranked the school as the top university on this relatively new field, followed by other top Universities such as Indiana University,  Harvard University, Stanford University and Michigan University .
The research paper title is "The Author Affiliation Index (AAI) as an Assessment of 25 Entrepreneurship Journals, 2007-2001" and has been submitted for the 2014 Academy of Management Annual Meeting.
FOR MORE INFORMATION
The Erasmus Centre for Entrepreneurship (ECE) embodies Erasmus University's focus on entrepreneurship, maintaining the university founders' century-old ambition of a specialised educational programme focusing on the needs of entrepreneurs and the business community into reality. The ECE is where the many facets of entrepreneurship find a home, bringing business and academia together. In our three main focus areas you can learn new skills (Education), add new knowledge (Research) and apply the skill and knowledge in practice (Services). 
You can read more about the original research paper here