PhD Defence: Christian Fisch
---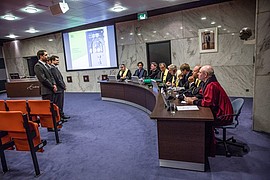 In his dissertation 'Patents and Trademarks: Motivations, Antecedents, and Value in Industrialized and Emerging Markets' ERIM's Christian Fisch addresses several important issues regarding the antecedents of patenting and the value of patents in China that are crucial, but have received little attention so far
Christian defended his dissertation in the Senate Hall at Erasmus University Rotterdam on Thursday, 1 December 2016 at 15:30. His supervisor was Prof. Joern Block and his co-supervisors were Prof. Enrico Pennings and Prof. Roy Thurik. Other members of the Doctoral Committee were Prof. Martin Carree (ESE), Prof. Justin Jansen (RSM), and Prof. Frank van Oort (Utrecht University),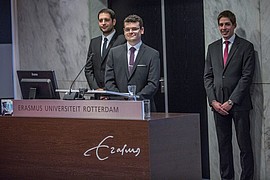 Christian O. Fisch (1987) obtained his Master degree from Trier University (Germany) in 2012. He then started his PhD research at the department of Applied Economics Erasmus School of Economics, Erasmus University Rotterdam under the supervision of professors Joern Block, Roy Thurik, and Enrico Pennings. Simultaneously, he was a research associate at Trier University's Chair of Management, held by Joern Block.
His research interests revolve around topics in the areas of innovation and entrepreneurship and focus on intellectual property rights. His research has been published in international peer-reviewed journals, for example, Research Policy, Journal of Technology Transfer, and Journal of Brand Management. He has presented his work at various international conferences including the 76th annual meeting of the Academy of Management in 2016. Christian Fisch is also currently a member of the editorial review board of Small Business Economics.
In addition to his academic activities, Christian Fisch is a part-time entrepreneur: In 2015, he became the manager and co-founder of Block & Partner, a small consulting company specialized in providing consulting to SMEs on the topics of innovation and strategy.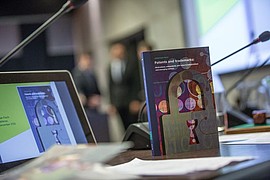 Intellectual property rights (IPRs) play a very important role for innovations. They serve as a mechanism for innovators (e.g., individuals, companies, universities) to protect their intellectual property and enable the holder of the IPR to profit from the innovation. Patents and trademarks constitute the two most important and most frequently utilized IPRs. This thesis contains five empirical studies that address recent research gaps in research on patents and trademarks.
With regard to patents, this thesis focuses on patenting in China, which underwent a remarkable and explosive growth recently: Only 15 years ago, Chinese applicants filed 1.9% of the patents they filed in 2014. This is because China is trying to transition itself from an imitation-based to innovation-based economy. However, even though China is actively and prominently fostering innovation in trying to become a leading innovator, China is still far away from reaching the world's innovation frontier. In light of this ongoing and still relatively unexplored phenomenon, this thesis addresses several important issues regarding the antecedents of patenting and the value of patents in China that are crucial, but have received little attention so far. In particular, this thesis addresses the more specific topics of university patenting, the impact of acquisitions on innovation performance, and patent value in China.
In contrast to research on patenting, research on trademarking is in comparatively early stages. Trademarks are a very important IPR for firms to distinguish themselves from competitors and have been linked positively to the market valuation, survival, and productivity of firms. However, little is known on why firms file trademarks, which is the focus of the final study in this thesis.
Photos: Chris Gorzeman / Capital Images