ERIM PhD Defence Krishnan Nair
---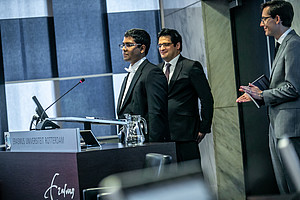 In his dissertation 'Strengthening corporate leadership research: The relevance of biological explanations' Krishnan Nair applies insights from the evolutionary sciences to study topics related to corporate governance and politics. Krishnan Nair defended his dissertation in the Senate Hall at Erasmus University Rotterdam on Friday, 11 October 2019 at 13:30. His supervisors were Prof. Pursey Heugens (RSM) and Prof. Hans van Oosterhout (RSM). Other members of the Doctoral Committee are Joep Cornelissen (RSM), Marius Van Dijke (RSM), Hans van Ees (Groningen University), Markus Fitza (Frankfurt School of Finance & Management) and F.M. (Flore) Bridoux (RSM).
Krishnan Nair's PhD research project is conducted within the Erasmus Doctoral Programme organised by Erasmus Research Institute of Management (ERIM), the joint research institute of Rotterdam School of Management (RSM) and Erasmus School of Economics (ESE) of the Erasmus University Rotterdam (EUR).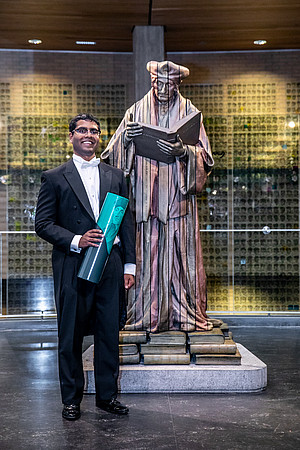 Krishnan Nair is a Postdoctoral Fellow at the Kellogg School of Management. His research applies insights from the evolutionary sciences to study topics related to corporate governance and politics. His PhD dissertation explores how business executives' physiological features influence their behavior, compensation, and selection. His other research examines the role of ethnic interests in shaping political orientation and the relationship between family characteristics and family conflicts in family businesses. The first paper from Krishnan's dissertation has been published in Psychological Science, one of the leading journals in the field of psychology. He has presented his papers at a number of conferences, including multiple annual meetings of the Academy of Management and the Strategic Management Society. He will defend his PhD dissertation (in Strategy and Entrepreneurship) at Erasmus University on October 11, 2019.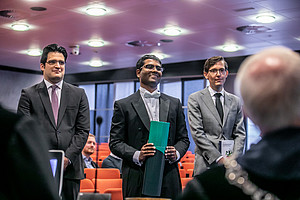 The large body of literature on corporate leadership is diverse in many dimensions, but the studies in this area typically share an underlying (if implicit) belief that social forces are the primary driver of cognition and behavior. While acknowledging the relevance of these social factors, I suggest that there is the potential to substantially advance our understanding of executive behavior by considering a very different perspective; namely, one that is rooted in biological rather than social explanations. Building on recent research in evolutionary psychology, the three papers in this dissertation examine how biological signals of fighting ability that appear in the face and voice affect executive behavior, selection, and compensation. This work contributes to the corporate leadership literature by introducing a unique perspective that complements existing approaches to studying the drivers of corporate leader perceptions and behavior.
Photos: Chris Gorzeman / Capital Images