Online PhD Defence Masoud Mirzaei.
---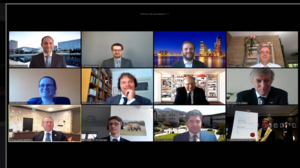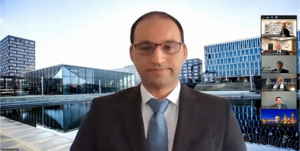 Masoud Mirzaei was born on 20 March 1985 in Arak, Iran. He received his BSc and MSc degrees in Industrial Engineering from Iran University of Science and Technology (2007) and Shahed University (2010), respectively, in Tehran, Iran. For two years, he worked as operations and data analyst in industry, before becoming a PhD candidate at Rotterdam School of Management, Erasmus University Rotterdam in February 2013. In 2013, he was a visiting scholar at the Department of Information Management and Decision Science, University of Science and Technology of China, Hefei, China. His research interests include supply chain management, design and analysis of warehouses and fulfillment centers, logistics and material handling, operations research. His research findings has been presented in many international conferences including INFORMS Annual Meeting (2015), POMS (2012) and European Conference on Operational Research (2018, 2019). He is involved in coordinating and teaching several courses, and supervising students at master and bachelor levels. Masoud is currently a Postdoctoral fellow at Department of Industrial Engineering & Innovation Sciences, Eindhoven University of Technology.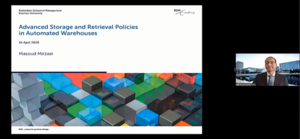 Warehouses are key components in supply chain. They facilitate the product flow from production to distribution. The performance of supply chains relies on the performance of warehouses and distribution centers. Being able to realize short order delivery lead times, in retail and ecommerce particularly, is important for warehouses. Efficient and responsive storage and retrieval operations can help in realizing a short order delivery lead time. Additionally, space scarcity has brought some companies to use high-density storage systems that increase space usage in the warehouse. In such storage systems, most of the available space is used for storing products, as little space is needed for transporting loads. However, the throughput capacity of high-density storage systems is typically low. New robotic and automated technologies help warehouses to increase their throughput and responsiveness. Warehouses adapting such technologies require customized storage and retrieval policies fit for automated operations. This thesis studies storage and retrieval policies in warehouses using several common and emerging automated technologies.