Jaap Paauwe to receive Thomas A. Mahoney Mentoring Award
---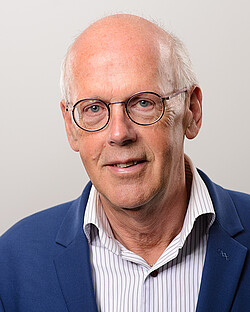 Jaap Paauwe, emeritus professor Organization and HR Management (Erasmus University Rotterdam and Tilburg University), is the first non-American to receive the Thomas A. Mahoney Mentoring Award, which is given annually by the HR Division of the Academy of Management to an individual who has distinguished herself/himself in the mentoring of PhD students.
Each year the HR Division of the Academy of Management recognizes individuals who have made exemplary contributions in their career to the advancement of the Human Resource Management (HRM) field. The Thomas Mahoney Mentoring Award is named in memory of Tom Mahoney, who himself provided so much guidance to developing PhD students over his long career. Paauwe will receive the award during the online Academy of Management Awards ceremony of the HR-Division in august 2021. "'I feel very honored and delighted to receive this award, which I did not expect at all,' he says.
Jaap Paauwe has acted as a supervisor for more than 25 candidates, who successfully defended their PhD-dissertation, among which several candidates with distinction. He has served on more than 25 PhD dissertation committees of other candidates. Among the many comments written about Jaap Paauwe, two former students had this to say:
"Professor Paauwe is passionate about sharing his knowledge and experience and is famous for instilling in his mentees the ability to think critically while keep an open-mind, balanced perspective, having worked with generations of doctoral students making a tremendous impact on their professional development during their studies and post-graduation."
"Professor Paauwe deeply cares about his mentees, treats them with dignity, and enables them to reach their full potential by trying to create opportunities for PhD students and junior faculty to learn and develop themselves. He has served as a hub for a community of HRM scholars, many of whom were his former PhD students, who have grown up around him. These people are established scholars in their own right, serving the HR community and transferring Paauwe's role modelling to their own doctoral students."
Jaap Paauwe is an emeritus professor of Organization and Human Resource Management at Tilburg University and Erasmus University Rotterdam. His research focuses on the relationship between HRM, performance and well-being, HR functional excellence, and HRM and the institutional context. More recently, he focuses on HR/People analytics, Talent Management and agile ways of working. His main passion is making sure that well-being and claims for fairness and legitimacy are included in the HRM-Performance relationship. Both at Tilburg University and at Erasmus University, he is still involved in the supervising of a number of PhD students. Jaap holds an honorary chair at Pablo de Olavide University in Seville (Spain) and an honorary chair at North-West University in Potchefstroom, (South-Africa). He has published widely on the aforementioned topics in international refereed journals, books and book chapters. His latest book, written together with Elaine Farndale, has been published under the title: HRM, Strategy and Performance: A contextual approach, Oxford University Press, 2017.
Jaap Paauwe is a member of the Academy of Management, HR division. He initiated together with his colleagues the Dutch HRM Network, which has strengthened the international reputation of Dutch HRM research by organizing bi-annual international conferences and providing advanced courses in HRM for PhD students. He was also one of the founding fathers of the People Management Center, based at Tilburg University, in order to bridge the gap between the academic and business community by organizing activities such as roundtables and jointly financing and supervising PhD projects.