PhD Defence Katharina Badenhausen
---
In her dissertation, IoT – Inducing Organizational Transformation?, Katharina Badenhausen dove into coordination and communication between firms in a supply chain. She focused on how firms can adopt new software-based systems to provide companies with the opportunity to improve how they govern, coordinate, and execute intra- and interorganisational process.
Katharina successfully defended her dissertation on Thursday, 8 December 2022. Her supervisors were Prof. Rob Zuidwijk (RSM), and Dr M. (Merieke) Stevens (RSM). The members of her Doctoral Committee were Dr Bart Vanneste (UCL), Prof. Miriam Wilhelm (WU), Prof. Daan Stam (RSM), Prof. John Paul MacDuffie (Wharton), and Prof. Vareska van de Vrande (RSM)
About Katharina Badenhausen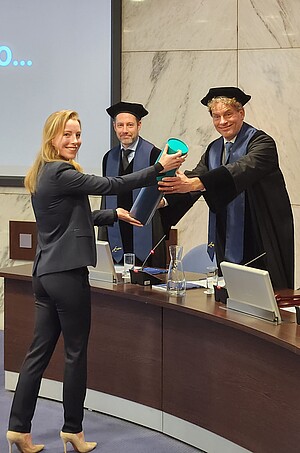 Katharina Badenhausen was born in Tübingen, Germany on 17 May 1993. She studied Communication Studies and Political Science at the University of Erfurt in Germany. She then moved to Vancouver where she completed a Diploma in International Business. Intrigued by the intricacies of international business, Katharina subsequently pursued a double degree in CEMS Master's in International Management and Master of Management at the University of Sydney (USYD), Rotterdam School of Management (RSM), and National University of Singapore (NUS). In 2017, Katharina joined the department of Technology and Operations Management at the Rotterdam School of Management (RSM), Erasmus University, under the supervision of Prof. Rob Zuidwijk and Dr. Merieke Stevens. Katharina's research is motivated by her keen interest in the automotive industry, new technologies, and organizational change. Her research revolves around organizational learning in the context of disruptive technologies. She presented her work at several international conferences, including the POMS Conference in Washington D.C., and the PVMI Researcher's Meeting in Tokyo. Katharina now works at Mercedes-Benz Group AG.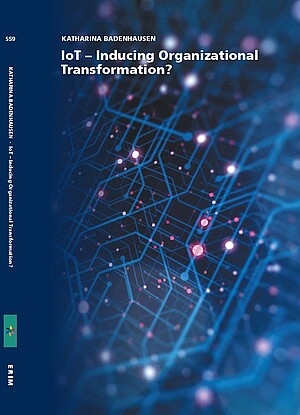 Coordination within and between firms is as important as ever as supply chain complexity continues to increase. The Internet of Things (IoT) has provided firms with new opportunities to govern coordination, improve intra- and interorganizational processes, and make the hitherto unknown known. Many firms jumped on the bandwagon but some underestimated the transformative impact of a technology that altered the interface, i.e., the foundation of components and the interaction between them. This dissertation explores how firms, that have previously focused on the development of hardware-based mechanical systems, can learn about unknown software-based systems, as well as learn with them. In the first study, we link the ease of knowledge absorption with the product architecture of the industry's former dominant design, arguing that an integral product architecture facilitates knowledge absorption under a dominant design but impedes it when the dominant design shifts. In the second study, we establish IoT-enabled monitoring between a buyer and a supplier as a substitute-in-use for trust governance and complement for contractual governance. We more specifically differentiate between high-capability and low-capability suppliers and demonstrate that IoT-enabled monitoring induces supplier effort for both, but triggers more sensitive reactions of high-capability suppliers. With the third study, we introduce intentional imitation of start-up practices as an appropriate measure to address change. Together, we provide three accounts of how firms can manage the transformation and overcome the challenges associated with IoT.
View photos of Katharina's PhD Defence
Photos: Alberto Giudici & Robert Mittertreiner