Dr. I.J. (Inga) Hoever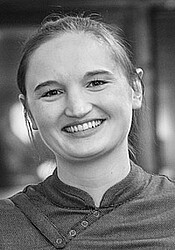 Rotterdam School of Management (RSM)
Erasmus University Rotterdam
Inga Hoever is an Associate Professor in the Department of Organisation and Personnel Management of Rotterdam School of Management. Her research focuses on questions related to teams and workplace creativity. She is particularly interested in how individual employees and team members relate to each other through processes like perspective taking, feedback, and information elaboration and how these processes help employees realize the potential of the diversity present among their co-workers or team members.
Publications
Article (9)
Academic (7)

Professional (2)

Hoever, I., van Knippenberg, D., Ginkel, W., & Barkema, H. (2013). How to boost creativity within diverse teams. RSM Insight, 14(2), 18-19. http://hdl.handle.net/1765/41654
Chapter (1)
Academic (1)

van Knippenberg, D., & Hoever, I. (2017). Team diversity and team creativity: A categorization-elaboration perspective. In R. Reiter-Palmon (Ed.), Team creativity Oxford University Press.
Doctoral Thesis (1)
Internal (1)

Hoever, I. (2012). Diversity and creativity: in search of synergy. [Doctoral Thesis, Erasmus University Rotterdam]. Erasmus University Rotterdam (EUR).
Additional activities (1)
Academy of Management Journal (Journal)

Editorial work (Academic)
---
Address
Visiting address
Office: Mandeville Building T10-37
Burgemeester Oudlaan 50
3062 PA Rotterdam
Postal address
Postbus 1738
3000 DR Rotterdam
Netherlands