M.C. (Maria Carmen) Punzi MSc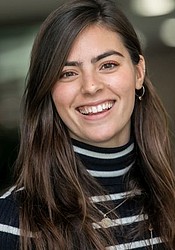 Rotterdam School of Management (RSM)
Erasmus University Rotterdam
Maria Carmen is a Ph.D. Candidate in Business-Society Management. After working in several international non-profit organizations focused on gender equity and reproductive health, she joined ERIM in September 2019. In her research she takes an organizational lens to uncover the ways in which inequalities are reinforced and perpetuated through organizational discourses and practices, policies and regulations. Specifically, her research starts from the recognition that while menstrual health has been proven to affect women's opportunities, health and inclusive participation in society, it is widely missing from existing work for gender equity. Bringing together literatures on social entrepreneurship, social movements and institutional change, she studies how different stakeholders organize around menstrual health, competing, collaborating and constructing new meanings around it.
Maria Carmen translates insights from her academic work to media conversation and social change projects. She contributed to debates on menstrual leave (France24) and free period products in international media and her input was brought into Dutch Parliament, during the Kamervragen (Parliamentary Question time). In 2021, in collaboration with other stakeholders, she has advocated and obtained funding for free menstrual products in the university campus and continues her activism within and beyond the university. She is regularly consulted by companies on how to accommodate menstrual needs at work and works as research consultant for institutional and nonprofit organizations on projects focused on menstrual health, sexual and reproductive health and rights and gender equity.
Maria Carmen obtained her Master of Science (MSc) degree in Global Business and Sustainability from Rotterdam School of Management, Erasmus University (2017) and her Bachelor degree (BSc) in Politics, Philosophy and Economics (cum laude) from LUISS University, Rome (2016).
PhD Track Inclusivity Through Menstrual Health: Social Enterprises and the Challenge of Collaborative Governance for Societal Change
About 52% out of the female global population – that is 26% out of the total population - is of reproductive age which means that every day, more than 800 million women and girls are menstruating worldwide. Even though menstruation is deeply connected to challenges such as environmental sustainability, unmet need for contraception, gender-based violence and inequality, political institutions have been surprisingly silent on the topic: suffice here to look at milestone documents like the European Commission 2016-2020 Strategic Engagement for Gender Equality and the Sustainable Development Goals (2015) where not even a hint is given to such a crucial matter.
Menstruation is not simply a social and political matter. The menstrual products market is expected to raise to $42.7 billion by 2022 . The experience of menstruation is mediated by products, the marketing and advertisements of which influence the way women relate to their bodies and identities. Research is increasingly showing that girls not only in developing countries, but in wealthy areas like the United Kingdom struggle to afford their monthly supply of pads and tampons and sometimes have to choose between them and food. This shows that a research on the topic necessitates an economic reflection.
This project sets to understand the topic of menstrual health as a hub of strategic importance thanks to its timely and interdisciplinary nature, and an excellent case to study how, in a complex society like ours, the path towards collaborative governance unfolds. Menstrual health sets the scene to understand and study inclusivity on two levels. First, it helps us truly imagine how an equitable society would look like, one where menstruation does not represent an obstacle to opportunities and everyday actions for women. Second, it guides our analysis of how collaborative decision-making can unfold, and which challenges and opportunities can arise, given the lively and progressive momentum that is being built around menstruation in different fields.
The menstrual health context will be analyzed as a case where different stakeholders – social entrepreneurs, incumbent firms, non-profit organizations, regulators and donors – dynamically interact and work towards collaborative governance. This will mean studying the motivations and capabilities of non-state actors, who are increasingly harnessed in assuming regulatory responsibilities and contributing to public goals. In this way, the research aims at casting light on the processes and dynamics through which relevant public policies come to be - both at national and European level –, new standards are sought, and management strategic decisions are taken by entrepreneurs combining socially responsible behaviour with the need to make profits.
This project is appointed under the Erasmus Initiative 'Dynamics of Inclusive Prosperity'.
Publications
Article (1)
Academic (1)

Werner, M. D., Punzi, M. C., & Turkenburg, A. J. K. (Accepted/In press). Period Power: Organizational Stigma, Multimodality, and Social Entrepreneurship in the Menstrual Products Industry. Journal of Management Studies. https://doi.org/10.1111/joms.12974
Chapter (1)
Academic (1)

Punzi, M. C., & Werner, M. (2020). Challenging the Menstruation Taboo One Sale at a Time: The Role of Social Entrepreneurs in the Period Revolution. In C. Bobel, I. T. Winkler, B. Fahs, K. A. Hasson, E. A. Kissling, & T. A. Roberts (Eds.), The Palgrave Handbook of Critical Menstruation Studies (pp. 833-851). Palgrave Macmillan. https://doi.org/10.1007/978-981-15-0614-7_60
Event (1)
Open Science Campaign
As: Speaker
---
Address
Visiting address
Burgemeester Oudlaan 50
3062 PA Rotterdam
Postal address
Postbus 1738
3000 DR Rotterdam
Netherlands