dr.ir. N.A.H. (Niels) Agatz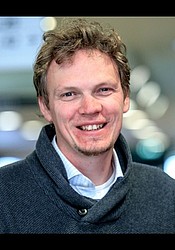 Rotterdam School of Management (RSM)
Erasmus University Rotterdam
Member ERIM
Field:
Logistics & Information Systems
Affiliated since 2004
Niels Agatz is an Associate Professor of Last-mile Supply Chain Operations at the Rotterdam School of Management, Erasmus University, where he also serves as the Academic Director of the MSc program in Supply Chain Management. He has held visiting appointments at the School of Industrial Engineering of the Georgia Institute of Technology and the Transport and Logistics Engineering department of the Pontifical Catholic University of Chile. Dr. Agatz' research focuses on developing quantitative models and optimization methods to support sustainable last-mile logistics systems. He is particularly interested in technology-driven innovations in urban delivery, shared mobility, and omni-channel retail operations. His research has been published in leading academic journals including Transportation Science, Transportation Research Part B and the European Journal of Operational Research and has also been featured in national and international media including the Wall Street Journal and New Scientist. Agatz has delivered over 50 (invited) presentations on his research for both academics as practitioners. He currently serves as an Associate Editor of *Networks* and *Transportation Science* and has edited special issues on online retail operations (Naval Research Logistics), drone delivery systems (Networks) and sustainable transportation (Transportation Research Part C). Niels Agatz is the winner of several grants and awards, including an NWO Rubicon grant. He currently leads a work package on last-mile delivery operations in the City Logistics Lab project. Dr. Agatz likes to work in close collaboration with company stakeholders. He holds an MSc in Industrial Engineering from the Eindhoven University of Technology and a PhD in Logistics and Operations Management from the Rotterdam School of Management, Erasmus University.
Publications
Article (23)
Academic (20)

Popular (1)

Agatz, N., Campbell, AM. A. M., Fleischmann, M. M., van Nunen, JAEE., & Savelsbergh, M. (2008). What E-Tailers Can Learn From Airline Pricing. Unknown.

Professional (2)
Chapter (1)
Academic (1)

Agatz, N., Campbell, AM. A. M., Fleischmann, M. M., & Savelsbergh, M. (2008). Challenges and Opportunities in Attended Home Delivery. In B. Golden, R. Raghavan, & E. Wasil (Eds.), The Vehicle Routing Problem: Latest Advances and New Challenges (pp. 370-396). Springer.
Editorial (3)
Academic (3)

Pel, J., Agatz, N., Macharis, C., & Veelenturf, L. (2018). Technologies and control for sustainable transportation. Transportation Research Part C: Emerging Technologies, 86, 168-170. https://doi.org/10.1016/j.trc.2017.11.006
Additional activities (2)
Transportation Science (Journal)

Editorial work (Academic)

Networks (Journal)

Editorial work (Academic)
PhD Vacancy (1)
In many delivery and service operations, the service provider and customer must agree on a day or time window for the service. The time window appointments have direct impact on the efficiency and effectiveness of the service operations, but also on the attractiveness of the service to the customer. In this research, we will study how to increase sustainability and profitability of logistics services by managing and steering the demand. To find the right balance between, sustainability, effectiveness and attractiveness of the service, we consider two types of demand management approaches: (i) selectively determining the time window assortment to be displayed to customers (e.g. dependent on their region) and (ii) providing incentives (financial and non-financial) to dynamically steer demand. One example of a non-financial incentive is the use of green labels that show which logistics choices help the service provider reducing vehicles miles and thereby emissions and pollution. We will conduct empirical research based on both lab and field experiments and develop optimization methods/machine learning approaches to support decision making in this context.
Read more
---
Address
Visiting address
Office: Mandeville Building T09-19
Burgemeester Oudlaan 50
3062 PA Rotterdam
Postal address
Postbus 1738
3000 DR Rotterdam
Netherlands