prof. dr. ir. N.A.H. (Niels) Agatz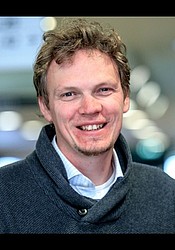 Rotterdam School of Management (RSM)
Erasmus University Rotterdam
Member ERIM
Field:
Logistics & Information Systems
Affiliated since 2004
Niels Agatz is a Professor of Last-mile Supply Chain Analytics at the Rotterdam School of Management, Erasmus University and serves as Scientific Director for TKI Dinalog. He has held visiting appointments at the School of Industrial Engineering of the Georgia Institute of Technology and the Transport and Logistics Engineering department of the Pontifical Catholic University of Chile. Dr. Agatz' research focuses on developing data-driven quantitative models and optimization methods to support sustainable last-mile supply chains. He is particularly interested in technology-driven innovations in urban delivery, shared mobility, supply chain management and omni-channel retail operations. His research has been published in leading academic journals including Transportation Science, Production and Operations Management, Transportation Research Part B and the European Journal of Operational Research and has been featured in national and international media including the Wall Street Journal and New Scientist. He currently serves as an Associate Editor at Transportation Science and a guest editor for a special issue on last-mile operations for the Journal of Operations Management. He has edited special issues on transportation-enabled urban services (Service Science), online retail operations (Naval Research Logistics), drone delivery systems (Networks) and sustainable transportation (Transportation Research Part C). Niels Agatz is the winner of several grants and awards, including an NWO Rubicon grant and the INFORMS TSL Stella Dafermos Achievement Award. He currently leads a work package on last-mile delivery operations in the City Logistics Lab project. Professor Agatz likes to work in close collaboration with company stakeholders. He holds an MSc in Industrial Engineering from the Eindhoven University of Technology and a PhD in Logistics and Operations Management from the Rotterdam School of Management, Erasmus University.
Publications
Article (31)
Academic (25)

Popular (1)

Agatz, N., Campbell, AM., Fleischmann, M., van Nunen, JAEE., & Savelsbergh, M. (2008). What E-Tailers Can Learn From Airline Pricing. Unknown.

Professional (5)
Chapter (1)
Academic (1)

Agatz, N., Campbell, AM., Fleischmann, M., & Savelsbergh, M. (2008). Challenges and Opportunities in Attended Home Delivery. In B. Golden, R. Raghavan, & E. Wasil (Eds.), The Vehicle Routing Problem: Latest Advances and New Challenges (pp. 370-396). Springer-Verlag.
Conference article (1)
Academic (1)

Agatz, N., Bazzan, A. L. C., Kutadinata, R., Mattfeld, D. C., Sester, M., Winter, S., & Wolfson, O. (2016). Autonomous car and ride sharing: Flexible road trains. GIS: Proceedings of the ACM International Symposium on Advances in Geographic Information Systems. https://doi.org/10.1145/2996913.2996947
Doctoral Thesis (1)
Internal (1)

Agatz, N. (2009). Demand management in E-fulfillment. [Doctoral Thesis, Erasmus University Rotterdam]. Erasmus University Rotterdam (EUR).
Editorial (3)
Academic (3)

Pel, J., Agatz, N., Macharis, C., & Veelenturf, L. (2018). Technologies and control for sustainable transportation. Transportation Research Part C: Emerging Technologies, 86, 168-170. https://doi.org/10.1016/j.trc.2017.11.006
Inaugural speech (1)
Popular (1)

Agatz, N. (2023). Everything at your doorstep - is the last mile the longest? Address delivered at the occasion of accepting the appointment as Professor of last-mile supply chain analytics at the Rotterdam School of Management. Erasmus University Rotterdam (EUR). ERIM Inaugural Address Series Research in Management
Additional activities (2)
Transportation Science (Journal)

Editorial work (Academic)

Networks (Journal)

Editorial work (Academic)
---
Address
Visiting address
Office: Mandeville Building T09-19
Burgemeester Oudlaan 50
3062 PA Rotterdam
Postal address
Postbus 1738
3000 DR Rotterdam
Netherlands