ERIM Awards Ceremony 2009
---
---
---
Abstract
ERIM will organize the 8th ERIM awards ceremony with a lunchbuffet for all ERIM Fellows, Members, PostDoc Fellows, Doctoral Candidates and invited guests. At this occasion the ERIM Awards will be presented by prof. dr. H.G. Schmidt, Rector Magnificus of the Erasmus University Rotterdam.
At the 8th annual ERIM Awards Presentation Ceremony, ERIM honours its best researchers and the best research support officer. The prizes are divided in different academic disciplines like the Dissertation Award, the Book Award and the Impact Award.
You are welcome from 12.00 hrs and the meeting ends at 14.00 hrs
Please confirm your participation before Thursday December 3, 2009 by e-mail to Tineke van der Vhee, tvhee@rsm.nl.
ERIM Award Winners 2008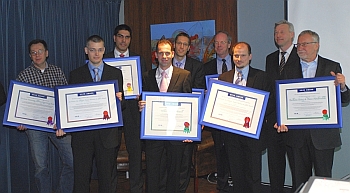 More information:
www.erim.eur.nl/awards
Pictures of the Awards Ceremonies