New professor Ting Li's inaugural address: digital traces in business
---
Ting Li, Endowed Professor of Digital Business at Rotterdam School of Management, Erasmus University (RSM) and ERIM Member will deliver her inaugural address Digital Traces: Personalisation and Privacy on Wednesday, 20 June 2018. She will argue that businesses often find themselves walking a thin line between delivering personalised services to consumers and being intrusive, which increases consumers' privacy concerns.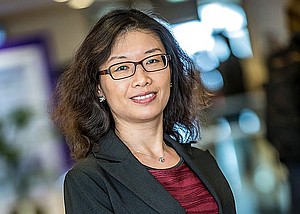 According to Prof. Li, daily use of the web, social media, smart phones, and sensor technologies creates a digital trail of data from which movements, interactions, and even emotions – in both offline and online environments – can be traced. Insights gained from such digitised behavioural traces can facilitate business transformations in various domains, such as operations, marketing, finance, healthcare, and urban transportation. Businesses can tap into this rich seam of information to uncover the preferences that influence an individual's real-time decision making, and provide personalised interactions.
In her inaugural address, Professor Li will first explain how behavioural insights could improve from exploring digital traces, using offline trajectories and online social interactions. She will then emphasise two increasingly important and intertwined topics; personalisation and privacy. She will finish by discussing personalisation-privacy-paradox related challenges related to customer behaviour, business strategy, public policy, system design, and society at large.
Professor Ting Li's inaugural address is open to the public, and will take place on Wednesday, 20 June 2018. The ceremony will start at 16:00 in the Auditorium of the Erasmus Building on Woudestein campus, Burgemeester Oudlaan 50, Rotterdam and will be followed by a reception.
On 18 and 19 June, two days preceding her inaugural address, Prof. Li will co-chair the Statistical Challenges in E-Commerce Research (SCECR). This leading academic conference on big data will attract top scholars throughout the world in the areas of information systems, quantitative marketing, economics, statistics, machine learning, and computer science. The workshop covers diverse domains such as e-commerce, social media, digital content, finance, and telecommunications. Methods include econometric models, machine learning algorithms, statistical methods, and unstructured and big data techniques. This year's conference will feature 80 academic paper presentations and welcome more than 130 international participants.
On 20 June, 2018, the day of Prof. Li's inaugural address, RSM will host the first Digital Economy Summit. The Summit will bring together industry professionals and renowned international academics for a full day of presentations, panels, and discussions. It will feature a number of speakers covering topics on digital strategy, business analytics, artificial intelligence, digital experimentation and privacy by industry executives and world-class academic researchers.
Ting Li is the Endowed Professor of Digital Business and the Academic Director of the MSc in Business Information Management at RSM. She is a founding member of the Erasmus Centre for Data Analytics. Ting's research interests focus on the impact and the economic value of digital technologies on consumers and businesses. Her work has been published in top scientific journals and recognised with best paper awards. Her interdisciplinary research has been sponsored by multiple grants from the Dutch National Science Foundation (NWO) and multinational companies. She teaches in various bachelor, master, MBA and executive education programmes. Prior to joining academia, Ting worked for General Electric and IBM. She obtained her PhD in Management Science at Erasmus University and her MSc in Computational Science at the University of Amsterdam. In 2017, she was named by Poets & Quants as one of the Top 40 Professors Under 40 Worldwide.