ERIM PhD Defence Evgenia Dolgova
---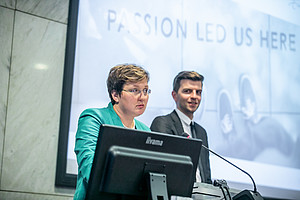 In her dissertation 'On Getting Along and Getting Ahead: How Personality Affects Social Network Dynamics', Evgenia Dolgova studies how personality and interpersonal perceptions contribute to social network dynamics. It presents two studies that advance our understanding on how friendship unfolds within the organizations
Evgenia Dolgova will defend her dissertation in the Senate Hall at Erasmus University Rotterdam on Thursday, 26 September 2019 at 15:30. Her supervisors were Prof. Pursey Heugens (RSM) and Dr. Michaéla Schippers (RSM). Other members of the Doctoral Committee are Prof. Tiziana Casciaro (University of Toronto), Dr. Alexandra Gerbasi (Exeter University), Dr. Hannes Leroy (RSM), Dr. Francesca Pallotti (University of Greenwich), Prof. Wouter Stam (VU Amsterdam) and Dr. Stefano Tasselli (RSM).
Evgenia Dolgova's PhD research project is conducted within the Erasmus Doctoral Programme organised by Erasmus Research Institute of Management (ERIM), the joint research institute of Rotterdam School of Management (RSM) and Erasmus School of Economics (ESE) of the Erasmus University Rotterdam (EUR).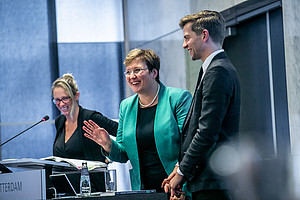 Evgenia Dolgova sees collaborative relationships as key to fulfilling careers that enable employees to realize their full creative potential within the organizations. To this end, her research focuses on social network dynamics in innovative contexts.
Evgenias' research investigates why people get along within the organizations – and why they don't – and how it matters. She applies dynamic social network analysis to study how organizational members collaborate to innovate. Zooming in on how people form relationships, Evgenia explores the role of individuals' personality and interpersonal perceptions in organizational contexts where people innovate (e.g. marching bands, teams working out a strategy, companies reinventing their organizational structure). Zooming out, she looks on the interplay between relationships and individual and team performance. This stream of research advances the social network perspective on organizations by emphasizing how individuals and their relationships matter for organizational performance. Evgenia is particularly excited about the new research venues that dynamic social network analysis opens up for organizational scholars.
Her research has been published in Harvard Business Review and is now under review in key management journals. She regularly presents her research at leading international conferences. Currently, Evgenia teaches and conducts research at the Department of Strategic Management and Entrepreneurship. Previously, at the Erasmus Center for Women and Organizations at Rotterdam School of Management, Erasmus University, Evgenia studied how to foster inclusion and create fulfilling collaborative relationships within the organizations and evaluated measures that lead to increased female representation in leadership roles. The work of the center has been recognized with "Force for Positive Change Award" by the Executive Board of the RSM for advancing Strategic Development Goals.
She also completed a Post-Doc on social networks at VU Amsterdam, worked as an Assistant Professor at Tilburg University, and received a Marie Curie Fellowship from the European Union to conduct research on management of emergent technologies at Leeds University. There, applying dynamic analysis of social networks and semantic network analysis, she studied how new technologies propagate through society, taking massive open online courses as an example. Before embarking on the PhD trajectory at the Rotterdam School of Management, Erasmus University, Evgenia completed a Masters degree in Psychology at the Ludwig-Maximillians-Universitaet in Munich and worked as an organizational change consultant.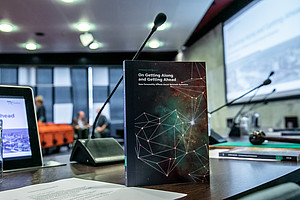 How people get along and get ahead socially within the organizations? This dissertation looks into how personality and interpersonal perceptions contribute to social network dynamics. It presents two studies that advance our understanding of how friendship unfolds within the organizations. The first study looks into how proactive personality - individuals' tendency to change their environment - influences perceptions of competence and friendship in teams. The second study looks into how Five Factor personality traits add to dynamics in friendship and conflict networks and looks into how friendship and conflict mutually influence each other.
Both studies aim at three key contributions to organization studies. First, they specify processes and mechanisms through which personality affects social network dynamics, thus responding to calls to study how individual actions shape social structures. Second, both studies address how two types of networks mutually influence each other (perceptions of competence and friendship, Chapter 2; friendship and conflict, Chapter 3), shedding light on how multiplex networks evolve. Finally, this dissertation aims to distinguish various forces shaping network formation (e.g. separate structural influences from individual actions) by applying stochastic actor-based modeling of social network dynamics.
Photos: Chris Gorzeman / Capital Images