Online PhD Defence Zhaowen Qian
---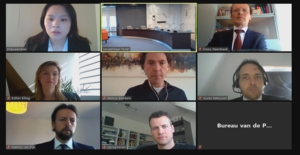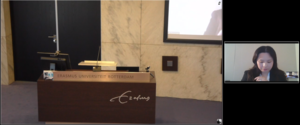 Zhaowen was born in Zhejiang, China. She holds a B.A.in finance from Fudan University in China and B.S.in international business and economics from the university of Groningen, the Netherlands. She moved to Rotterdam to pursue a research master in finance in Erasmus University Rotterdam with a scholarship from ERIM. After graduating with cum-laude, she continued as a PhD candidate in the school of Economics to conduct research in finance.
Her research interests mainly lie in fixed income, portfolio management and international finance. Her PhD project provides new evidence about financial integration and portfolio management in the fixed-income market by hand-collecting a unique and comprehensive dataset of European corporate bonds. She presented her papers and served as a discussant in several international conferences such as the Financial Management Association Europe, European Financial Management Association, and the Infinity conference. One of her papers titled as "Time-varying importance of country and industry factors in European corporate bonds" was published in Journal of Empirical Finance in 2016. During her PhD study, she was a teaching assistant for the course "Fixed Income and portfolio Management" and supervised several bachelor and master theses. Currently, Zhaowen works as a credit risk modeller in a FinTech company in Washington DC.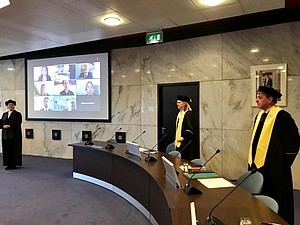 Stocks and corporate bonds constitute two important financing sources for companies. Most of the previous studies on the integration and investment of the European capital markets mainly focus on the stock markets. The number of corporate bond studies is quite limited, which could be partially attributed to the fact that the corporate bond indexes are less available than their stock peers in Europe. However, the European corporate bond markets are developing rapidly, especially after the start of the EMU, with currently a larger size than the stock market in Europe. Moreover, the recent financial crisis and the sovereign debt crisis significantly impacted the European corporate bond markets no less than the stock markets. Therefore, this PhD dissertation sets its foot in the European capital markets, especially in the corporate bond markets, and provides empirical analyses on financial integration and portfolio management from the perspective of country versus industry debate.
This dissertation bundles three empirical studies in the area of financial integration and portfolio management in the European corporate bond and stock markets. These studies investigate the country versus industry debate in the European capital markets in the areas of financial integration and dynamic portfolio management. Samples in this PhD thesis cover the most recent two decades, which includes several important events in Europe including the establishment of the EMU, the recent financial crisis and the European sovereign debt crisis. By utilizing the time-varying country and industry factor exposures, this dissertation highlights the unique roles of the country and industry factors in the European corporate bond and stock markets over the most recent two decades, which provides new insights for both policymakers and portfolio managers in Europe