Fokkers's Spare Parts
Optimising stocking op airplane parts
Modern-day airplanes are complex machines: built out of innumerable components, each in turn made up of a vast number of smaller parts. Inevitably, over time these components need to be repaired or replaced. The repair of such airplane parts is one of the many services provided by Fokker, the renowned aerospace company. Aside from the required precision and intricate co-ordination, the repair must also be executed as quickly as possible in order for Fokker to maintain a competitive advantage and a good reputation amongst clients.
"The method has a positive impact on sales, as it allows us to better guarantee that we deliver [to] our customers what they expect."
- Maarten van Marle, Managing Director of Fokker repair shop.
Ten years ago, the Erasmus School of Economics (ESE) carried out the first investigation into predicting demand for spare parts. The positive outcome of that initial research eventually led to the company's involvement with the Service Logistics Forum. Fokker, together with Erasmus University, the universities of Twente and Eindhoven, and twelve other companies, came together to collaborate on the subject of service logistics.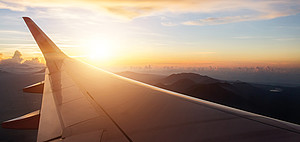 At the beginning of the process, faulty components undergo inspection in order to identify which parts need replacement. Hence, the crucial issue Fokker needed to resolve was estimating
the most optimal number of spare parts to keep in stock. If even just one part is missing, it must be ordered, thereby delaying the entire repair process. This creates bottlenecks that can significantly slow down the repair and negatively affect customer satisfaction.

Yet in practice, the repair shop could not realistically keep all potential spare parts in stock. Stocking too many parts in advance can be costly and inefficient. Availability of parts is further complicated by the fact that often, one part may be used in multiple components. Both of these factors needed to be taken into account in designing an efficient inventory system.

This is where the subsequent ESE research, led by Professor Rommert Dekker and his PhD student Willem van Jaarsveld, came into play. In order to provide Fokker with a most optimal stocking advice, ESE employed various analyses.

First, different repair types were classified by usage probability and quantity of each piece-part in a given component. For repairs of a specific component type, a probability distribution was then estimated based on past repairs. This data was then extrapolated in order to give the repair shop an idea of which repairs are the most common, thus determining the spare parts most in demand and how many should be stocked.
The researchers optimised the repair shop turnaround times by employing a new algorithm, focusing at the level of individual piece-parts and how they are relate to each other as opposed to entire components. By initiating this more wholesome target, the technique allowed for a wider range of important variables to be examined, and hence, offer a more accurate prediction.

Fokker then implemented this approach, and it indeed proved to be fundamentally superior to common industry practice. A component-oriented part fill rate of 95% turned out to be 36% more cost efficient than a standard individual part fill rate of 98%, while providing the same service. This signified a strong competitive advantage for Fokker, whereas the repair shops were able to introduce either significant savings or substantial speed improvements.

The collaboration between Fokker and ESE has proved to be highly successful and beneficial for the company. Fokker recorded a notable increase in customer satisfaction, and hence, improved
performance.6
---
6 Willem van Jaarsveld, Twan Dollevoet and Rommert Dekker (2015): Improving spare parts inventory control at a repair shop, Omega, 57, Part B, 217-229. doi:10.1016/j.omega.2015.05.002
Ward Romeijnders, Ruud Teunter and Willem van Jaarsveld (2012): A two-step method for forecasting spare parts demand using information on component repairs. European Journal of Operational Research 220(2), 386-393. doi:10.1016/j.ejor.2012.01.019
Li, X., Dekker, R., Heij, C. and Hekimoğlu, M. (2016), Forecasting End-of-Supply Risk of Spare Parts Using the Proportional Hazard Model, Decision Sciences, 47(2), 373–394.
---
Source: ERIM Self Assessment Report 2010 – 2015, January 2017