Shaping the future of financial reporting
Does it pay off to be more transparent?
While financial reporting standards may fail to excite the public at large, proper implementation of those standards has a massive impact on the roles firms can and will play in society and the competitiveness of a country. Professors Erik Roelofsen and Maarten Pronk identify the hurdles and opportunities in building a constructive, efficient, and trusting financial environment, and actively engage in the shaping of financial reporting in the Netherlands through policy advice and public debate.
"To make our country attractive in the worldwide competition for capital, Dutch companies should more actively promote their superior governance and social responsibilities."11
— Gerben Everts, Executive Board member of the Dutch Authority of Financial Markets (AFM), responsible for the supervision of financial reporting.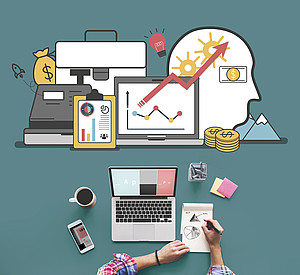 There is a consensus that truthful financial disclosure plays an important role in winning investors' trust and ensuring the prosperity of financial markets. However, what private and public companies should disclose to investors has been the centre of heated discussions for decades. The wishes are clear: reports should provide more future-oriented information and factors that affect long-term value creation of the firm, and they should align internal management information with external financial reports.

Though these wishes were made explicit by de Jenkins Committee12 in 1992, the current accounting practice still lags far behind. What are the obstacles to improving the reporting standards in practice? Does it actually payoff to be more transparent? How should the future of financial reporting look like? The answers to these questions are vital for improving the competitiveness of the Dutch economy.

Professor Erik Roelofsen13 at the Rotterdam School of Management and Professor Maarten Pronk14 at the Erasmus School of Economics both have rich experience in the accounting industry with part-time appointments from PwC and EY respectively. They devote themselves to research and related discussions on financial disclosure. They have multiple joint research projects to study the formal and informal disclosure channels and their impact on the stock performance of firms. One notable example of their academic research is on the textual analysis of earnings-related conference calls by a large sample of publicly listed U.S. firms (Hollander, Pronk and Roelofsen, 2010).15 Around the filing of earnings reports, CEOs utilize conference calls with equity market analysts who can ask questions for further clarification on the filed report. In this study, Professors Roelofsen and Pronk and their co-author find that equity market analysts and other listeners to this conference call are particularly skillful in extracting relevant information. They find that if CEOs dodge questions, investors would interpret this behaviour negatively, which would have an immediate serious effect on the company's stock. The study provides clear evidence for such conference calls being instrumental in helping investors make better decisions, as well as indirectly disciplining corporate senior management to be more transparent. The findings of this paper caught significant attention by professional magazines and popular media, such as the Dutch financial newspaper (FD)16/17 and BNR radio.
Professor Roelofsen has taken a leading role in the debate on how the future of reporting standards should look. To identify the major hurdles for each of the groups involved in the building of a constructive, efficient, and trusting environment, Roelofsen engaged with 18 opinion leaders in the Netherlands through interviews, among others the Chairman of the International Accounting Standards Board, executive board member of the AFM, CEOs and CFOs of Dutch listed companies and pension funds, academic researchers, politicians and accounting practitioners. These interviews showed several points of disagreement, such as whether it is the regulators or the enterprise who should take a more proactive role in shaping the future of reporting and whether financial reports should be more standardised for ease of comparison or take a more organization-specific approach. Although there are no definite answers to these questions, by initiating such discussions with opinion leaders, Roelofsen helps create a widespread awareness in society of these issues. Thanks to his background in both academia and the accounting industry, he is in an excellent position to conduct these interviews. To further disseminate his work and engage more thought leaders in debating such questions, Roelofsen
wrote a book based on these interviews, published by Eburon Business: "Voorkauwen of Vaag Houden?—18 interviews met opinieleiders over de toekomst van verslaggeving" (To be Explicit or Implicit?—Interviews with 18 opinion leaders on the future of financial reporting) and an article on the FD.18
Professor Pronk realises the important roles accountants and auditors play in ensuring the quality and truthfulness of financial reports. Therefore, he is involved in the training programmes for all EY auditors in the Netherlands and is editor of the EY Handboek Jaarrekening (EY Handbook of Annual Reports), which is widely used by controllers and auditors in the Netherlands.
Furthermore, he directly influences the quality of EY audited financial reports by engaging in discussions with CFOs as part of the audit of their financial statements. Leveraging his academic and professional experience, Pronk plays a leading role in designing financial reporting guidelines in the Netherlands as a committee member of the Dutch Financial Reporting Board. He also stimulates discussions on financial reporting by regularly publishing articles in the Dutch financial newspaper (FD)19 and organising several round table discussions, which invite leading academics, financial professionals, and investor organisations, such as Eumedion20 and VEB,21 engage in knowledge sharing and open debates on the topic.
---
11 P37. "To be Explicit or Implicit?—Interviews with 18 opinion leaders on the future of financial reporting"
12 The Special Committee on Financial reporting formed by The American Institute of Certified PublicAccountants in 1991.
13 At the Rotterdam School of Management and part-time Director of Accounting and Valuation Advisory Group at PricewaterhouseCoopers
14 At Erasmus School of Economics and part-time Executive Director for Professional Practice at EY
15 Hollander, S., Pronk, M. and Roelofsen, E.M. (2010). Does Silence Speak? An Empirical Analysis of Disclosure Choices during Conference Calls. Journal of Accounting Research, 48 (3), 531-563.
16 "Vragen analist negeren leidt tot lagere beurskoers" 2 Feb 2010, FD http://fd.nl/frontpage/Archief/651293/vragen-analist-negeren-leidt-tot-lagere-beurskoers
17 "Radiostilte" 24 November 2011, FD http://fd.nl/frontpage/beurs/722667/radiostilte
18 "Te weinig prikkels om integrale verslaggeving van ondernemingen succesvol te maken" 14 June 2013, FD http://fd.nl/frontpage/Print/krant/Pagina/Opinie/76309/te-weinig-prikkels-om-integrale-verslaggeving-van-ondernemingen-succesvol-te-maken
19 Among others: "Geïntegreerde verslaggeving is ook zonder wettelijke verplichting wel degelijk dwingend" 2 Jan 2014, FD https://www.eur.nl/file-download/download/public/130108
20 Eumedion represents institutional investors' interests in the field of corporate governance and related sustainability performance. http://www.eumedion.nl/en
21 VEB: Dutch association for private investors. https://www.veb.net/
---
Source: ERIM Self Assessment Report 2010 – 2015, January 2017