A. (Atabak) Mehrdar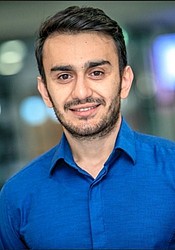 Rotterdam School of Management (RSM)
Erasmus University Rotterdam
ERIM PhD Candidate
Field:
Logistics & Information Systems
Affiliated since 2018
Atabak's research focuses on decision-making processes and consumers' behavior. He uses quantitative approaches, and learning algorithms to address research questions that lie within the combinations of mathematical modeling and psychology. His main research interests are revenue management, price communication, OR, and quantitative marketing.
He holds a Master's degree in Systems' Engineering and a Bachelor's degree in Industrial Engineering from Sharif University of Technology. Prior to joining academia, he had working experiences as a project manager, consultant, and developer in the IT and telecommunication industries.
PhD Track Doctoral Research in Business Analytics in Information Systems
Researchers in the field of information systems combine information management and data analytics in order to generate new scientific knowledge. The Business Information Management (BIM) section in the Department of Technology of Operation Management at Rotterdam School of Management (Erasmus University) is seeking a highly motivated PhD student who desires to pursue an academic research career in this field.
Applicants must have strong quantitative training, with preference given to candidates who have earned an MSc, MPhil or Research Master in econometrics, statistics, or microeconomics, and who have proficiency with R, SQL, python, or other data-oriented programming languages.
The PhD student will gain the training and experience necessary to conduct independent research through course work and seminars in IS, economics and quantitative marketing; workshops and research seminars; and through applied and theoretical research conducted in concert with the BIM faculty. The PhD thesis will be defined by the student with input from the supervisory group, and thus requires creativity, self-direction, and a passion for scientific inquiry.
Keywords

Business Analytics, Information Strategy, Digital Innovation, Social Media, Mobile Commerce, Economics of IS, Digital Platform

Time frame

2018 -
Publications
Abstract (1)
Academic (1)

Mehrdar, A., & Li, T. (2020). An Optimal Pricing Strategy with Cannibalization. Abstract from Statistical Challenges in Electronic Commerce Research, Madrid, Spain.
Conference proceeding (1)
Academic (1)

Mehrdar, A., & Li, T. (2020). An Optimal Pricing Strategy with Cannibalization. In Annual Meeting of the Academy of Management
---
Address
Visiting address
Burgemeester Oudlaan 50
3062 PA Rotterdam
Postal address
Postbus 1738
3000 DR Rotterdam
Netherlands