Dr. B. (Bas) Karreman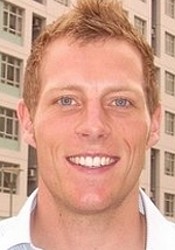 Erasmus School of Economics (ESE)
Erasmus University Rotterdam
Associate Member ERIM
Field:
Strategy & Entrepreneurship
Affiliated since 2006
Bas Karreman is an Assistant Professor in the department of Applied Economics. His research interests are in the field organization and strategy, with a particular focus on the financial services industry and emerging markets. Most of his work relates to financial center development in mainland China and Hong Kong and the network development of multinational banks in Central and Eastern Europe. He coordinates and teaches the course "Organization & Strategy", for which he was elected Lecturer-of-the-Year by the students of the economics and business program in 2009-2010. He was also designated Top Lecturer by the Erasmus School of Economics in 2010. Since 2008, he acts as liaison officer for the Erasmus University China Center.
Publications (21)
Articles (11)
B. Karreman, M.J. Burger & F. Van Eenennaam (2018). Revealed competition between cluster organisations: An exploratory analysis of the European life sciences sector. Environment and Planning A: International Journal of Urban and Regional Research. doi: 10.1177%2F0308518X18802325

A.S. Bhaskarabhatla, C. Chatterjee & B. Karreman (2016). Hit where it hurts: Cartel policing using targeted sales and supply embargoes. The Journal of Law and Economics, 59 (4), 805-846.

T. Dogaru, M.J. Burger, F.G. Van Oort & B. Karreman (2014). The geography of multinational corporations in CEE countries: perspectives for second-tier city regions and European cohesion policy. Investigaciones Regionales (print), 29, 193-214.
Book Contributions
B. Karreman (2009). Financiele centra en opkomende economieen in Europa. In L van der Laan & M Versantvoort (Eds.), Netwerken en Regionale Analyse (pp. 47-56). Delft: Eburon
Doctoral Thesis
B. Karreman (2011, februari 27).

Financial Services and Emerging Markets.

Erasmus University Rotterdam (153 pag.) (Rotterdam: Erasmus Research Institute of Management (PhD Serie 223)) Prom./coprom.: prof.dr. G.A. van der Knaap & prof.dr. H.P.G. Pennings.
Professional Publications (8)
B. Karreman, G. Werner, H.T. van der Molen, E.M. Osseweijer, M. Ackermann, H. Schmidt & E. van der Wal (2016). Zelf leren schrijven voor economie en bedrijfskunde. Amsterdam: BoomLemma

M. De Jager, S. Lentfert & B. Karreman (2015). Shared service centers: van besparing naar waardecreatie. Executive Finance, 1 (3), 30-33.

B. Karreman (2014). De mondiale opkomst van Chinese ondernemingen: Go Global! Tijdschrift voor het Economisch Onderwijs, 114 (1), 32-33.

B. Karreman (2013). Wanneer vliegt de eerste low-cost luchtvaartmaatschappij intercontinentaal? Economisch-Statistische Berichten, 98 (4657), 224.

B. Karreman, T.G. Nacken & H.P.G. Pennings (2013). Arabische lente voor de EBRD. Internationale Spectator, 67 (4), 46-51.

B. Karreman & H.P.G. Pennings (2011). De volgende fusie- en overnamegolf. Economisch-Statistische Berichten, 96 (4619), 589-591.
Recognition (1)
Side positions
CHERC (China-Holland Education & Research Centre)

Liaison officer
Events (2)
Research Workshop
As: Speaker
---
Address
Visiting address
Office: Tinbergen Building H13-11
Burgemeester Oudlaan 50
3062 PA Rotterdam
Postal address
Postbus 1738
3000 DR Rotterdam
Netherlands