Prof. dr. D.A. (Daan) Stam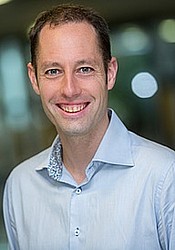 Rotterdam School of Management (RSM)
Erasmus University Rotterdam
Member ERIM
Field:
Logistics & Information Systems
Affiliated since 2004
Daan Stam is Endowed Professor of Innovation Management at the department of Technology and Operations Management at Rotterdam School of Management, Erasmus University Rotterdam, the Netherlands. His research interests include leadership and communication, in particular in innovation and operational settings. Daan Stam is a member of the Erasmus Centre for Leadership Studies. His research is published in such academic outlets as Organizational Behavior and Human Decision Processes, Organization Science, Journal of Operations Management, The Leadership Quarterly and Journal of Organizational Behavior.
Publications
Article (30)
Academic (24)

Professional (6)

Stam, D., de Vet, A., Barkema, H., & Dreu, CKW. (2014). Why quiet reflection improves development performance. RSM Insight, 17(1), 14-15. http://hdl.handle.net/1765/50722

van Dierendonck, D., & Stam, D. (2014). Exploring the differentials between servant and transformational leadership. RSM Discovery - Management Knowledge, 18(2), 16-17. http://hdl.handle.net/1765/77107

de Koster, R., Stam, D., & Balk, B. (2011). Accidents will happen: Do hazard-reducing systems help? Logistics and Transport, 1(12), 63-66.
Chapter (2)
Academic (2)

van Knippenberg, D., & Stam, D. (2014). Visionary Leadership. In D. V. Day (Ed.), Oxford Handbook of Leadership and Organizations (pp. 241-259). Oxford University Press.

de Vries, J., de Koster, R., & Stam, D. (2014). Experimentally Investigating The Performance Of Various Order Picking Methods In Different Behavioral Contexts. In J. Smith, K. Ellis, R. Koster, de, S. Lavender, B. Montreuil, & M. Ogle (Eds.), Progress in Material Handling Research: 2014 (pp. 1-17). CICMHE.
Doctoral Thesis (1)
Internal (1)

Stam, D. (2008). Managing dreams and ambitions. A psychological analysis of vision communication. [Doctoral Thesis, Erasmus University Rotterdam]. Erasmus University Rotterdam (EUR).
Inaugural speech (1)
Popular (1)

Stam, D. (2019). Leading for Innovation. Erasmus Research Institute of Management (ERIM). Inaugural Addresses Research in Management Series http://hdl.handle.net/1765/117229
Paper (1)
Academic (1)

De Vries, J., De Koster, R., & Stam, D. (2014). Aligning order picking methods with incentive systems and pickers for performance. Paper presented at 5th International Conference on Information Systems, Logistics and Supply Chain, ILS 2014, Breda, Netherlands.
Additional activities (1)
Journal of Personnel Psychology (Journal)

Editorial work (Academic)
PhD Vacancy (1)
Innovation Management studies how organizations bring innovations to life successfully. A successful innovation involves all actions needed to generate creative ideas and to turn these into attractive new products, services, and business models. The Innovation Management group at RSM is a team composed of several ambitious international faculty whose research focuses on creativity, idea management, leadership in innovation, standardization, collaborative innovation, and innovation strategies. We also execute large research projects in collaboration with leading organizations on, for instance, horticulture innovation and in the creative industries. Our research is often empirical and applies both quantitative and qualitative methods. As a PhD candidate in our section, you can choose to join one or more of the projects described below or elaborate your own project. Supervisors can vary per paper that you are working on.
Read more
---
Address
Visiting address
Office: Mandeville Building T09-51
Burgemeester Oudlaan 50
3062 PA Rotterdam
Postal address
Postbus 1738
3000 DR Rotterdam
Netherlands