J.H. (Danny (Jia Hui)) Zhu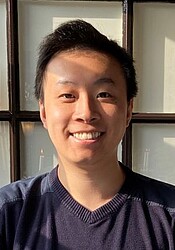 Erasmus School of Economics (ESE)
Erasmus University Rotterdam
ERIM PhD Candidate
Field:
Logistics & Information Systems
Affiliated since 2022
PhD Track Models and Algorithms for railway rolling stock (re)scheduling
Rolling stock is the most expensive resource of a railway company. Therefore, it is important to schedule rolling stock in an efficient way. In addition, the availability of a seat is important for the passengers. Minimum service levels on seat availability are also set by the government in the concession of the railway company. Also, when there are disruptions, seat availability requirements have to be satisfied. As such this has to be taken into account in rolling stock rescheduling during the operations. In a previous research project (Hoogervorst), new solution methods for rolling stock scheduling and rescheduling have been developed. However, these methods do not take all operational details into account. When adding all these operational details, the mathematical models get extremely challenging to solve. In this project, we want to develop new algorithms to solve these challenging models.
---
Address
Visiting address
Burgemeester Oudlaan 50
3062 PA Rotterdam
Postal address
Postbus 1738
3000 DR Rotterdam
Netherlands