Dr J. (Jelle) de Vries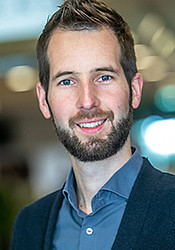 Rotterdam School of Management (RSM)
Erasmus University Rotterdam
Member ERIM
Field:
Logistics & Information Systems
Affiliated since 2010
Jelle de Vries is Associate Professor of Operations Management at Rotterdam School of Management, Erasmus University. In his research, Jelle focuses on the influence of behavioral characteristics and outcomes in operational settings. On this topic he has published in well-respected academic outlets such as the Journal of Operations Management (JOM) and Production and Operations Management (POM). With his PhD dissertation he won the Jo Van Nunen Prijs, the award for the best PhD dissertation on a logistics-related topic in the Netherlands. In 2018 he received a VENI research grant to further develop his research in Behavioral Operations. Before joining RSM, Jelle worked as Assistant Professor at VU University Amsterdam. He obtained his PhD (cum laude) and MPhil at RSM.
Publications
Chapter (1)
Academic (1)

de Vries, J., de Koster, R., & Stam, D. (2014). Experimentally Investigating The Performance Of Various Order Picking Methods In Different Behavioral Contexts. In J. Smith, K. Ellis, R. Koster, de, S. Lavender, B. Montreuil, & M. Ogle (Eds.), Progress in Material Handling Research: 2014 (pp. 1-17). CICMHE.
Doctoral Thesis (1)
Internal (1)

de Vries, J. (2016). Behavioral Operations in Logistics. [Doctoral Thesis, Erasmus University Rotterdam]. Erasmus University Rotterdam (EUR).
Paper (1)
Academic (1)

De Vries, J., De Koster, R., & Stam, D. (2014). Aligning order picking methods with incentive systems and pickers for performance. Paper presented at 5th International Conference on Information Systems, Logistics and Supply Chain, ILS 2014, Breda, Netherlands.
PhD Tracks (2)

Role: Daily Supervisor
PhD Candidate: Alexandros-Myron Pasparakis
Time frame: 2016 -

Role: Co-promotor
PhD Candidate: Mahsa Alirezaei
Time frame: 2020 -
---
Address
Visiting address
Office: Mandeville Building T09-51
Burgemeester Oudlaan 50
3062 PA Rotterdam
Postal address
Postbus 1738
3000 DR Rotterdam
Netherlands