Dr. J.N. (Julija) Mell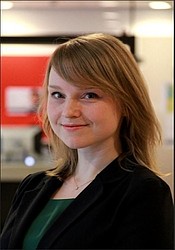 Rotterdam School of Management (RSM)
Erasmus University Rotterdam
Julija Mell is an Associate Professor of Organisational Behaviour in the Department of Organisation and Personnel Management of Rotterdam School of Management. She is the Academic Director of the Cologne-Rotterdam Executive MBA. She obtained her PhD in Organizational Behavior in 2015 at Erasmus University Rotterdam and her Diploma in Psychology in 2010 at the Humboldt University Berlin, Germany.
Her research focuses on collaboration across boundaries – for example, bridging cognitive boundaries within diverse teams, bridging geographical and cultural boundaries within globally dispersed teams, and bridging structural boundaries within complex social systems and networks. Her work has been published in leading academic journals such as the Academy of Management Journal, Organization Science, Journal of Applied Psychology, Organizational Behavior and Human Decision Processes, and Journal of Management Studies. Her research has been recognized by several awards, including the ERIM Outstanding Performance by a Young Researcher Award (2021), the ERIM Top Article Award (2021), the Academy of Management's Managerial and Organizational Cognition Divison's Best Paper Award (2021), and INGroup's Best Conference Paper Award (2019).
Julija teaches on topics surrounding Organizational Behavior, Teams, Leadership, and Social Networks in RSM's Bachelor, Master, Full-time MBA, Executive MBA, and Executive Education programs.
Publications
Article (10)
Academic (9)

Professional (1)

Mell, J., van Knippenberg, D., & Ginkel, W. (2014). The catalyst effect: how meta-knowledge can improve team performance. RSM Discovery - Management Knowledge, 20(4), 18-19. http://hdl.handle.net/1765/77376
Doctoral Thesis (1)
Internal (1)

Mell, J. (2015). Connecting Minds: On the Role of Metaknowledge in Knowledge Coordination. [Doctoral Thesis, Erasmus University Rotterdam]. Erasmus University Rotterdam (EUR).
Working paper (1)
Academic (1)

Incerti, V., Mell, J., Jang, S., Mortensen, M., & Yücesan, E. (2020). Who benefits from multiple team membership? An investigation of how the structure of MTM shapes team- and system-level performance. Advance online publication.
PhD Tracks (2)

Role: Co-promotor
PhD Candidate: Rowan Moelijker
Time frame: 2021 -

Role: Co-promotor
PhD Candidate: Claudia Heese
Time frame: 2023 -
PhD Vacancy (1)
Many employees in today's organizations work in multiple teams simultaneously. Despite the increasing prevalence of "multiteaming" in organizations, research on its implications is still in its infancy.
An important omission in extant research is the question how multiteaming affects workplace inclusion - employees' experience of being able to contribute to the larger collective as a full, valued member. Workplace inclusion is a critical precursor to employees' well-being and productivity and an important societal goal.
To address this gap, this PhD project will (a) investigate how multiteaming impacts work relationships in teams and, through this, workplace inclusion and associated outcomes, (b) investigate differences in relational outcomes of multiteaming for men and women.
For questions please contact Dr Julia Mell
Read more
---
Address
Visiting address
Office: Mandeville Building T10-39
Burgemeester Oudlaan 50
3062 PA Rotterdam
Postal address
Postbus 1738
3000 DR Rotterdam
Netherlands