L.D. (Leonard Diederik) van Brussel MSc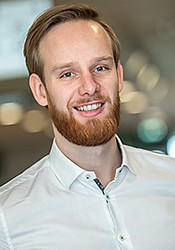 Rotterdam School of Management (RSM)
Erasmus University Rotterdam
PhD Track Doctoral Research in Marketing (Decision Neuroscience)
The marketing group at Rotterdam School of Management, Erasmus University is seeking highly motivated PhD students looking to pursue academic careers studying topics in consumer behavior, quantitative marketing, and consumer neuroscience. Strong applicants typically have backgrounds in psychology, business, statistics, economics, neuroscience, or computer science, and are looking to pursue an international career as a leading academic researcher. Students define and execute their own projects in consultation with their advisers, and therefore need to have creativity, self-direction, and a passion for scientific research.
For the current position, we seek outstanding applicants whose research interests lie at the intersection of psychology, economics, marketing and neuroscience and who are interested in studying the brain mechanisms that underlie judgement and decision-making. Particular interests of our group are the neural underpinnings of persuasive messaging, social influences on choice, dishonesty, emotion regulation and self-control.
For the current project, we are especially looking for applicants who have experience with innovative fMRI methods, most notably multi-voxel pattern analysis (MVPA), representational similarity analysis (RSA), or multivariate approaches to EEG data analysis, and who would be interested in applying these techniques to study (real-world) choice behaviour. Candidates with a less technical focus and a more general interest in how neuroscience can inform the study of decision-making are also invited to apply.
Keywords

Neuroscience, marketing, fMRI, EEG, decision-making, neuroeconomics

Time frame

2019 -
---
Address
Visiting address
Burgemeester Oudlaan 50
3062 PA Rotterdam
Postal address
Postbus 1738
3000 DR Rotterdam
Netherlands