L. (Linh) Nguyen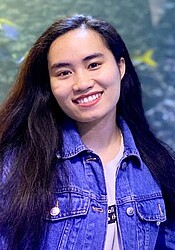 Rotterdam School of Management (RSM)
Erasmus University Rotterdam
ERIM PhD Candidate
Field:
Logistics & Information Systems
Affiliated since 2020
Linh Nguyen is a PhD candidate in the field of Supply Chain Management. Her interest lies in leveraging and managing the supply chain for sustainable products.
PhD Track PhD positions in Supply Chain Management
The ERIM-LIS (Business Processes, Logistics, and Information Systems) research program consists of three main research themes: (i) Supply Chain Management; (ii) Business Information Management, and (iii) Innovation Management. The reader of this project description on Supply Chain Management is encouraged to visit the other project descriptions within the LIS-program as well.
The aim of the ERIM-LIS research group is to be at the forefront of the developments in its domain and to make major contributions both to management science and to management practice. The research aims to contribute significantly to the leading role of the Netherlands as a gateway to Europe and as an innovative country. Much of the research is inspired by business challenges, and by the new opportunities of innovative information and communication systems, and technologies.
The research in the ERIM-LIS program is inter-disciplinary, integrating both quantitative and empirical research methods. Around the main research themes several research centres have been built (e.g. Smart Port, Behavioural Operations, Closed Loop Supply Chains, Optimization in Public Transport, Procurement, and Future Energy Business), which are used to focus the research, to acquire external funding, and to disseminate the research findings.
Keywords

Logistics, Supply Chain Management, Transportation, Inventories, Port and Terminal Operations, Sustainability, Purchasing and Supply Management, Public Transport, Behavioral Operations Management.

Time frame

2020 -
---
Address
Visiting address
Burgemeester Oudlaan 50
3062 PA Rotterdam
Postal address
Postbus 1738
3000 DR Rotterdam
Netherlands