Dr. M. (Merieke) Stevens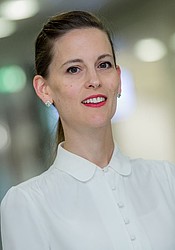 Rotterdam School of Management (RSM)
Erasmus University Rotterdam
Member ERIM
Field:
Logistics & Information Systems
Affiliated since 2011
Merieke Stevens is an Associate Professor of Operations Management at the department of Technology & Operations Management, Rotterdam School of Management, Erasmus University. Merieke's research focuses on supply chain coordination to improve outputs--economic but also societal and environmental. She is particularly interested in how trust and digital tools can increase supply chain transparency and inclusiveness. Merieke lived in Japan for several years, where she conducted extensive on-site research in the automotive industry. She retains her automotive focus, but applies her experience to other settings such as medical teams, and infrastructure asset management. Merieke teaches, amongst others, the core course Operations Management in RSM's fulltime MBA, and received the 2014-2016 PMB Best Teacher Award. She has held visiting positions at The Wharton School, University of Pennsylvania; the Faculty of Economics, University of Tokyo; and the Management Research Center, École Polytechnique Paris. She serves on the Editoral Review Board of the Journal of Operations Management. Merieke obtained her PhD in Operations Management from the University of Cambridge, Judge Business School, and is a member of Queens' College where Desiderius Erasmus studied between 1510 and 1515.
Publications
Article (4)
Academic (3)

Stevens, M., & van Schaik, J. (2020). Implementing new technologies for complex care: The role of embeddedness factors in team learning. Journal of Operations Management, 66(1-2), 112-134. https://doi.org/10.1002/joom.1034

Sting, F., Stevens, M., & Tarakci, M. (2019). Temporary deembedding buyer-supplier relationships: A Complexity Perspective. Journal of Operations Management, 65(2), 114-135. https://doi.org/10.1002/joom.1008

Stevens, M., MacDuffie, JP., & Helper, S. (2015). Reorienting and recalibrating inter-organizational relationships: Strategies for achieving Optimal Trust. Organization Studies, 36(9), 1237-1264. https://doi.org/10.1177/0170840615585337

Professional (1)
Chapter (3)
Academic (3)

Stevens, M. (2012). Renault-Nissan Alliance: Not just a handshake. In J. Cunningham, & B. Harney (Eds.), Strategy and Strategists: Legacies, Dilemmas and Trajectories Oxford University Press.

Stevens, M., & Fujimoto, T. (2009). Nissan: From the brink of bankruptcy. In M. Freyssenet (Ed.), Second Automobile Revolution: Trajectories of the world carmakers in the 21st century Palgrave Macmillan.

Stevens, M. (2008). Foreign Influences on the Japanese Automobile Industry: The Nissan-Renault mutual learning alliance. In R. Rasiah, Y. Sadoi, & R. Busser (Eds.), Multinationals, Technology and Localization: Automotive and electronics firms in Asia Routledge. https://doi.org/10.1080/13602380701660947
Additional activities (2)
Administrative Science Quarterly (Journal)

Editorial work (Academic)

Organization Studies (Journal)

Editorial work (Academic)
PhD Tracks (2)
Role: Co-promotor
PhD Candidate: Katharina Badenhausen
Time frame: 2017 -

Role: Member Doctoral Committee
PhD Candidate: Jun Xiao
Time frame: 2015 - 2021
---
Address
Visiting address
Office: W T09-28
Burgemeester Oudlaan 50
3062 PA Rotterdam
Postal address
Postbus 1738
3000 DR Rotterdam
Netherlands