dr. X. (Xi) Chen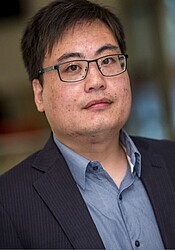 Rotterdam School of Management (RSM)
Erasmus University Rotterdam
Dr. Xi Chen's research focuses on quantitative marketing and digital marketing, with particular interests in the impact of digital tools and platforms on consumer behaviors and the implications for company strategies and public policies. Dr. Xi Chen received his PhD in Marketing from School of Business and Management at the Hong Kong University of Science and Technology.
Research Interests
Quantitative Marketing
Digital Marketing
Consumer Policy
Social Network Theory
Causal Inference
Please visit MY PERSONAL SITE for more information.
Publications
Article (3)
Academic (3)

Chen, X., van der Lans, RJA., & Trusov, M. (2021). Efficient Estimation of Network Games of Incomplete Information: Application to Large Online Social Networks. Management Science, 67(12), 7575-7598. https://doi.org/10.1287/mnsc.2020.3885

Wu, Y. L., Cheng, Y., Zhou, J., Lu, S., Zhang, Y., Zhao, J., Kim, D. W., Soo, R. A., Kim, S. W., Pan, H., Chen, Y. M., Chian, C. F., Liu, X., Tan, S. W. D., Bruns, R., Straub, J., Johne, A., Scheele, J., Park, K., ... Dingemans, A. M. (2020). Tepotinib plus gefitinib in patients with EGFR-mutant non-small-cell lung cancer with MET overexpression or MET amplification and acquired resistance to previous EGFR inhibitor (INSIGHT study): an open-label, phase 1b/2, multicentre, randomised trial. The Lancet Respiratory Medicine, 8(11), 1132-1143. https://doi.org/10.1016/S2213-2600(20)30154-5

Chen, X., van der Lans, RJA., & Phan, T. Q. (2017). Uncovering the Importance of Relationship Characteristics in Social Networks: Implications for Seeding Strategies. Journal of Marketing Research, 54(2), 187-201. https://doi.org/10.1509/jmr.12.0511
Chapter (1)
Academic (1)

Chen, X., van der Lans, RJA., & Trusov, M. (2017). Integrating social networks into marketing decision models. In Handbook of Marketing Decision Models Springer-Verlag.
PhD Tracks (3)

Role: Co-promotor
PhD Candidate: Marina Lenkovskaya
Time frame: 2021 -

Role: Co-promotor
PhD Candidate: Ting-Yi Lin
Time frame: 2021 -

Role: Co-promotor
PhD Candidate: Danial Hayati
Time frame: 2022 -
---
Address
Visiting address
Office: Mandeville Building T10-22
Burgemeester Oudlaan 50
3062 PA Rotterdam
Postal address
Postbus 1738
3000 DR Rotterdam
Netherlands