dr. X. (Xi) Chen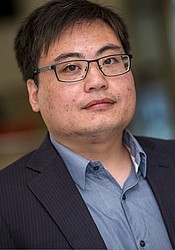 Rotterdam School of Management (RSM)
Erasmus University Rotterdam
Dr. Xi Chen's research focuses on quantitative marketing and empirical industrial organization, with particular interest in the influence of digital tools and platforms on consumer behavior and the implications for company strategy and public policy. 
Dr. Xi Chen received his PhD in Marketing from School of Business and Management at the Hong Kong University of Science and Technology.
Research Interests
Quantitative Marketing
Online Marketing
Empirical Industrial Organization
Policy and Strategy Evaluation
Social Network Theory
Please visit https://sites.google.com/site/chenximkt/ for more information.
Publications (3)
Articles (2)
X.Z. Kong, S.R. Mathias, T. Guadalupe, C. Abé, I. Agartz, T.N. Akudjedu, A. Aleman, S. Alhusaini, N.B. Allen, D. Ames, O. Andreassen, A. Vasquez, N. Armstrong, F. Bergo, M. Bastin, A. Batalla, J. Bauer, B. Baune, R. Baur-Streubel, J. Biederman, S.K. Blaine, P. Boedhoe, E. Bøen, A. Bose, J. Bralten, D. Brandeis, S. Brem, H. Brodaty, D. Yüksel, S.J. Brooks, J. Buitelaar, C. Bürger, R. Bülow, V. Calhoun, A. Calvo, E.J. Canales-Rodríguez, J.M. Canive, D. Cannon, E.C. Caparelli, F.X. Castellanos, G. Cavalleri, F. Cendes, T.M. Chaim-Avancini, K. Chantiluke, Q.L. Chen, X. Chen, Y. Cheng, A. Christakou, V. Clark, D. Coghill, C.G. Connolly, A. Conzelmann, A. Córdova-Palomera, J. Cousijn, T. Crow, A. Cubillo, A. Dale, U. Dannlowski, S.A. De Bruttopilo, P. de Zeeuw, I. Deary, N. Delanty, D.V. Demeter, A. Di Martino, E.W. Dickie, B. Dietsche, N. Doan, C.P. Doherty, A. Doyle, S. Durston, E. Earl, S. Ehrlich, C. Ekman, T. Elvsåshagen, J.N. Epstein, D.A. Fair, S.V. Faraone, G. Fernández, G.B. Filho, K. Förster, J.P. Fouche, J.J. Foxe, T. Frodl, P. Fuentes-Claramonte, J. Fullerton, H. Garavan, D.D.S. Garcia, I.H. Gotlib, A.E. Goudriaan, H. Grabe, N.A. Groenewold, D. Grotegerd, O. Gruber, T. Gurholt, J. Haavik, T. Hahn, N. Hansell, M.A. Harris, C.A. Hartman, M.D.C.V. Hernández, D. Heslenfeld, R. Hester, D. Hibar, B. Ho, T.C. Ho, P. Hoekstra, R. van Holst, M. Hoogman, M.F. Høvik, F.M. Howells, K. Hugdahl, C. Huyser, M. Ingvar, L. Irwin, A. Ishikawa, A. James, N. Jahanshad, T.L. Jernigan, E.G. Jönsson, C. Kähler, V. Kaleda, C. Kelly, M. Kerich, M.S. Keshavan, S. Khadka, T. Kircher, G. Kohls, K. Konrad, O. Korucuoglu, B. Krämer, A. Krug, J.S. Kwon, N. Lambregts-Rommelse, M. Landén, L. Lázaro, I. Lebedeva, R. Lenroot, K.P. Lesch, Q. Li, K. Lim, J. Liu, C. Lochner, E.D. London, V. Lonning, V. Lorenzetti, M. Luciano, M. Luijten, A. Lundervold, S. MacKey, F.P. MacMaster, S. Maingault, C.B. Malpas, U.F. Malt, D. Mataix-Cols, R. Martin-Santos, A.R. Mayer, H. McCarthy, P. Mitchell, B. Mueller, S. Maniega, B. Mazoyer, C. McDonald, Q. McLellan, K. McMahon, G. McPhilemy, R. Momenan, A. Morales, J.C. Narayanaswamy, J.C.V. Moreira, S. Nerland, L. Nestor, E. Newman, J.T. Nigg, J.E. Nordvik, S. Novotny, E.O. Weiss, R.L. O'Gorman, J. Oosterlaan, B. Oranje, C. Orr, B. Overs, P. Pauli, M. Paulus, K. Plessen, G.G. Von Polier, E. Pomarol-Clotet, M.J. Portella, J. Qiu, J. Radua, J.A. Ramos-Quiroga, Y.C.J. Reddy, A. Reif, G. Roberts, P. La Rosa, K. Rubia, M.D. Sacchet, P. Sachdev, R. Salvador, L. Schmaal, M. Schulte-Rüther, L. Schweren, L. Seidman, J. Seitz, M.H. Serpa, P. Shaw, E. Shumskaya, T.J. Silk, A.N. Simmons, E. Simulionyte, R. Sinha, Z. Sjoerds, R.E. Smelror, J.C. Soliva, N. Solowij, F.L. Souza-Duran, S. Sponheim, D. Stein, E. Stein, M. Stevens, L. Strike, G. Sudre, J. Sui, L. Tamm, H.S. Temmingh, R.J. Thoma, A. Tomyshev, G. Tronchin, J. Turner, A. Uhlmann, T. van Erp, O.A. van den Heuvel, D. van der Meer, L. van Eijk, A. Vance, I. Veer, D.J. Veltman, G. Venkatasubramanian, O. Vilarroya, Y. Vives-Gilabert, A.N. Voineskos, H. Völzke, D. Vuletic, S. Walitza, H. Walter, E. Walton, J. Wardlaw, W. Wen, L. Westlye, C. Whelan, T. White, R.W.H.J. Wiers, M. Wright, K. Wittfeld, T.T. Yang, C.L. Yasuda, Y. Yoncheva, M. Yücel, J.Y. Yun, M.V. Zanetti, Z. Zhen, X.X. Zhu, G.C. Ziegler, K. Zierhut, G. de Zubicaray, M. Zwiers, D. Glahn, B. Franke, F. Crivello, N. Tzourio-Mazoyer, S. Fisher, P. Thompson, C. Francks, L. Farde, L. Flyckt, G. Engberg, S. Erhardt, H. Fatouros-Bergman, S. Cervenka, L. Schwieler, F. Piehl, K. Collste, P. Victorsson, A. Malmqvist, M. Hedberg & F. Orhan (2018). Mapping cortical brain asymmetry in 17,141 healthy individuals worldwide via the ENIGMA consortium.

Proceedings of the National Academy of Sciences of the United States of America, 115

(22), E5154-E5163. doi:

10.1073/pnas.1718418115
Book Contributions
X. Chen, R. Van der Lans & M. Trusov (2017). Integrating social networks into marketing decision models. In Handbook of Marketing Decision Models. Cham: Springer
Courses (4)
---
Past
Current Topics in Marketing Research (2018/2019, 2017/2018)
Advanced Marketing Decision Models (2017/2018)
Marketing Strategy Research (2017/2018)
---
Address
Visiting address
Office: Mandeville Building T10-22
Burgemeester Oudlaan 50
3062 PA Rotterdam
Postal address
Postbus 1738
3000 DR Rotterdam
Netherlands