dr. Y. (Yashar) Ghiassi-Farrokhfal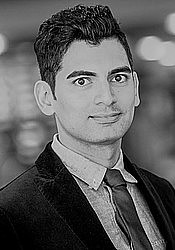 Rotterdam School of Management (RSM)
Erasmus University Rotterdam
Associate Member ERIM
Field:
Logistics & Information Systems
Affiliated since 2015
Energy systems, electricity markets, storage systems, market design and analysis, city-wide energy planning (FlexSUS)
Work in Progress
Y. Ghiassi-Farrokhfal, R. Belo, M.R. Hesamzadeh & D. Bunn (2021). The Emerging Market Power of Renewables Mitigated with Optimal Pricing (2nd round revision in Operations Research).
Publications (43)
Articles (42)
A. Esmat, M. De Vos, Y. Ghiassi-Farrokhfal, P. Palensky & D. Epema (2020). A Novel Decentralized Platform for Peer-to-Peer Energy Trading Market with Blockchain Technology.

Applied Energy, 282

:11623. doi:

10.1016/j.apenergy.2020.116123

M. Ansarin, Y. Ghiassi-Farrokhfal, W. Ketter & J. Collins (2019). Increasing Renewables In Energy Cooperatives Leads To Higher Cross-Subsidies, Depending On Tariff. In 42nd IAEE Conference (International Association for Energy Economics)

F. Kazhamiaka, Y. Ghiassi-Farrokhfal, S. Keshav & C. Rosenberg (2019). Comparison of Different Approaches for Solar PV and Storage Sizing.

IEEE Transactions on Sustainable Computing

. doi:

10.1109/TSUSC.2019.2946246

D. Pevec, J. Babic, A. Carvalho, Y. Ghiassi-Farrokhfal, W. Ketter & V. Podobnik (2019). Electric Vehicle Range Anxiety: An Obstacle for the Personal Transportation (R) evolution? In

4th International Conference on Smart and Sustainable Technologies (SpliTech)

. IEEE doi:

10.23919/SpliTech.2019.8783178

N. Naseri, Y. Ghiassi-Farrokhfal, W. Ketter & J. Collins (2019). Battery with Market Power in Electricity Markets. In Workshop on Information Technologies and Systems (WITS)

Y. Ghiassi-Farrokhfal & B. van Lunteren (2019). Designing an Inter-Sectoral Energy Storage System. In 42nd IAEE Conference (International Association for Energy Economics)

Y. Ghiassi-Farrokhfal, N. Nasiri, W. Ketter & J. Collins (2019). The Role of Batteries with Market Power in Electricity Markets. In Workshop on Information Technologies and Systems (WITS)

M. Ansarin, Y. Ghiassi-Farrokhfal, W. Ketter & J. Collins (2018). Cross-subsidies in Energy Co-operative Tariff Designs. In 41st IAEE Internation Conference

M. Ansarin, Y. Ghiassi-Farrokhfal, W. Ketter & J. Collins (2017). Cross-subsidies in Energy Cooperative Tariff Designs. In Workshop on Information Technology & Systems (WITS)

Y. Ghiassi-Farrokhfal, W. Ketter & J. Collins (2016). Analyzing Market Pricing Schemes To Integrate Renewable Sources. In Workshop on Information Technology & Systems (WITS)

M. Ansarin, Y. Ghiassi-Farrokhfal, W. Ketter & J. Collins (2016). A cooperative aggregation model for pricing residential energy users with renewable energy sources. In Workshop on Information Technology and Systems

M. Ansarin, Y. Ghiassi-Farrokhfal, J. Collins & W. Ketter (2016). A Demand Response Model for Residential Energy Cooperatives with Distributed Generation. In Workshop on Information Technology and Systems (WITS). Dublin, Ireland

C. van Gelder & Y. Ghiassi-Farrokhfal (2016). On The Reliability Gain of Neighborhood Coalitions: A Data-Driven Study. In IEEE SmartGridComm.

Y. Ghiassi-Farrokhfal, S. Keshav, C. Rosenberg & F. Ciucu (2013).

Firming Solar Power.

In

Proceedings of the ACM SIGMETRICS/international conference on Measurement and modeling of computer systems

(pp. 357-358) doi:

10.1145/2465529.2465744

Y. Ghiassi-Farrokhfal, V.R. Arbab & M.R. Pakravan (2006). A near optimum RREQ flooding algorithm in sensor networks. In -

Y. Ghiassi-Farrokhfal, V.R. Arbab & M.R. Pakravan (2006). Estimation error minimization in sensor networks with mobile agents. In -

Y. Ghiassi-Farrokhfal, V. Shah-Mansouri & M.R. Pakravan (2005). A novel joint routing and power management algorithm for energy-constraint ad-hoc sensor network. In -
PhD Tracks (2)

Role: Daily Supervisor
PhD Candidate: Mohammad Ansarin
Time frame: 2015 -

Role: Member Doctoral Committee
PhD Candidate: Derck Koolen
Time frame: 2014 - 2019
Event (1)
Research Seminar
As: Speaker
---
Address
Visiting address
Office: Mandeville Building T09-11
Burgemeester Oudlaan 50
3062 PA Rotterdam
Postal address
Postbus 1738
3000 DR Rotterdam
Netherlands