PhD Defence: The Renewal of Mature Industries - An Examination of the Revival of the Dutch Beer Brewing Industry
---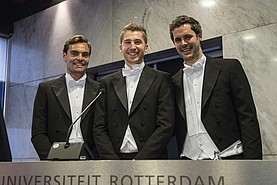 There are business lessons to be learned from the Dutch beer industry, because it seems to be one of the few industries which – in spite of domination from powerful players such as Heineken and Bavaria – has seen many individuals starting up successful new breweries. In his dissertation 'The Renewal of Mature Industries' PhD candidate Jochem Kroezen of ERIM shows that the key to successful rejuvenation in this sector is a combination of the resistance of consumers to established brewers, and building on the legacy of old breweries. Kroezen also demonstrates other industries can benefit from his findings on the revitalisation of the brewing sector.
Jochem defended his dissertation in the Senate Hall at Erasmus University Rotterdam on Thursday, 30 October 2014. His supervisor was Professor Pursey Heugens and other members of the Doctoral Committee were Professor Marc Schneiberg (Reed), Professor Hans van Oosterhout (ERIM), and Professor Kamal Munir (Cambridge).
About Jochem Kroezen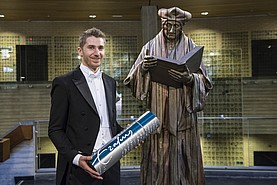 Jochem Kroezen, born in the Netherlands (1985), completed his bachelor's degree in Sports Marketing at HES Amsterdam. Jochem started his PhD trajectory in 2009 in RSM's Department of Organisation and Personnel Management, but moved to Department of Strategic Management and Entrepreneurship shortly afterwards. As part of his PhD trajectory, he spent two months as a visiting scholar at the University of Alberta and another two months at the University of British Columbia. Jochem's research interests centre on the bi-directional relationship between organisations and society. A deep interest in the long-term evolution of organisational fields, with a specific focus on the role of history, identity and geography ties his research projects together. His PhD research focuses on change in established industries and demonstrates how the history of an industry can function as a resource for social movements and entrepreneurial activity. He has expertise in qualitative research methods (NVIVO), multilevel event- history analysis, and meta-analysis.
Jochem currently lives in Cambridge with his wife and son where he works as a University Lecturer at the Judge Business School, University of Cambridge.
Dissertation Abstract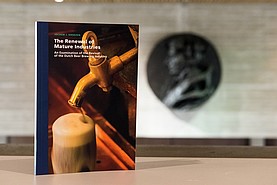 Many mature industries have recently experienced a remarkable revival. Yet, other important industries appear to remain impervious to change. While the evolution of industries is an important topic in the industrial organization and organizational sociology literature, theorists struggle to explain the determinants of industry renewal. In particular, there is a dearth in theories that explain (1) the formation of new organizational identities in mature industries, (2) the successful founding of new organizations and (3) the mobilization of entrepreneurs.
In this dissertation, I build on the organizational sociology literature to forward an endogenous view on industry renewal arguing that the vulnerability of an industry toward renewal is determined by internal structural properties of the industry. Findings from three empirical studies of the recent revival of the Dutch beer brewing industry suggest that renewal is more likely in industries that (1) provide actors with a diverse reservoir of authentic identity elements for the formation of new organizational identities, (2) contain a significant number of ancestral organizations that left behind recyclable organizational elements, and (3) harbor a substantial number of actors that adhere to alternative ways of thinking compared to the industry's "modus operandi".
Jointly, these findings demonstrate the potency of research under the eclectic umbrella of organizational sociology to provide explanations for the structural vulnerability of industries toward renewal. In particular, this dissertation calls for more research on the role of organizational destruction in industry evolution. Indeed, destruction appears to be an important generative process and an improved understanding of the role of destruction in industry renewal may be crucial for inspiring renewal in industries dominated by organizations that are too big too fail.
Photos: Chris Gorzeman / Capital Images