PhD Defence: The Financial Reporting Environment - The Role of Media, Auditors, and Regulators
---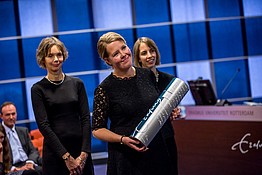 In her dissertation 'The Financial Reporting Environment – The Role of Media, Auditors and Regulators' ERIM's Miriam Koning investigates how the media, auditors and regulators influence the process of financial reporting. Essentially Miriam examines the media's critique of reporting practises, auditor selection, and the changing role of regulators arising from increased IFRS adoption.
Miriam defended her dissertation in the Senate Hall at Erasmus University Rotterdam on Thursday, 20 November 2014. Her supervisors were Professor Gerard Mertens and Professor Peter Roosenboom. Other members of the Doctoral Committee included Professor Abe de Jong (ERIM), Professor Erik Peek (ERIM), Professor Leo van der Tas RA (Tilburg).
About Miriam Koning
Miriam Koning holds an MSc in Economics from the Erasmus School of Economics, Erasmus University Rotterdam. Following graduation, she worked several years in the international audit practice at Ernst & Young (EY). Currently, she is assistant professor in Finance and Accounting at the Rotterdam School of Management, Erasmus University. Miriam teaches several courses in financial accounting. Her research is focused primarily on economic and political aspects of financial reporting and disclosure regulation. Furthermore, her research interests include the origins and evolution of accounting thought and practice. She has published in Abacus and the International Review of Financial Analysis.
Thesis Abstract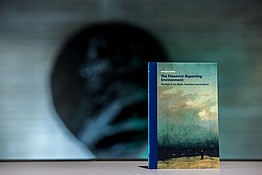 Financial reporting is the process of disclosing financial information about a company to external users.
This dissertation investigates three different parties involved in the environment of financial reporting: the media, regulators and auditors. The media, or more specifically the financial press, are central to the first study. This study shows that reporting practices are sensitive to critique in the financial press. Both reporting choices and investor decisions can be affected by negative press.
The second study in this dissertation examines a remarkable change in the regulation of financial reporting that took place during the past decade: the diffusion of International Financial Reporting Standards (IFRS) across the globe. The competitive benefits of IFRS that are commonly put forward are not equally important for every country. The study explores alternative motivations that may have been driving the widespread acceptance of IFRS and finds that changing ideas and the desire for legitimacy also play a role.
The third study explores auditor selection in a time when credible financial reporting is particularly salient, namely when a company goes public. Many firms switch to another audit firm when they go public. Different audit quality levels are selected depending on characteristics of the firm, ownership or the offering. But despite the careful selection of an auditor, audit quality does not seem to reduce under-pricing.
Overall, the studies in this dissertation emphasize that in order to enrich our understanding of financial reporting we need to examine its environment.
Photos: Chris Gorzeman / Capital Images