PhD Defence: Business Model Innovation - A Journey across Managers' Attention and Inter-Organizational Networks
---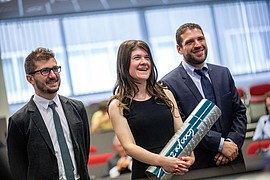 ERIM's Maria Rita Micheli focuses on Business Model Innovation (BMI) and confronts the lack of explicit understanding in how organizations combine external innovations with internal capabilities to innovate in her dissertation, 'Business Model Innovation: A Journey across Managers' Attention and Inter-Organizational Networks'. As such, Maria Rita seeks to contribute to research along three dimensions: (1) through shedding light on the process of BMI, (2) by exploring the relevance of managers' attention for BMI, and (3) by exploring the effectiveness of different BMI strategies.
Maria Rita defended her dissertation in the Senate Hall at Erasmus University Rotterdam on Friday, 12 June 2015. Her supervisor was Professor Justin Jansen and her co-supervisor was Dr. Luca Berchicci. Other members of the Doctoral Committee included Professor Taco Reus (ERIM), Professor William Ocasio (Kellogg School of Business) and Professor Charles Baden-Fuller (CASS Business School).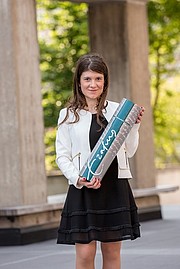 Maria Rita Micheli, born in Italy (1985) completed her Bachelor Degree and Master Degree in Management at Bocconi University in Milan. After the completion of her Master Degree in 2009, she worked as Research Assistant in the Management and Technology Department at Bocconi University. Maria Rita started her PhD trajectory in 2010 in the Department of Strategic Management & Entrepreneurship. During her PhD, she spent the Fall Quarter 2013 at Kellogg School of Management – Northwestern University. She was affiliated both with the Management and Organizations Department and the Northwestern Institute on Complex Systems. Her research interests span from social networks to attentional based view, which she combined for exploring processes of business model innovation. The empirical field of her PhD project is the Dutch creative industry, with a special interest in architecture, design and gaming companies. In her work, she combines qualitative and quantitative methods, showing the relevance of managers and inter – organizational networks for the innovation of companies' business models. Beyond being a researcher, Maria Rita is fondly passionate of sport, cinema and dance.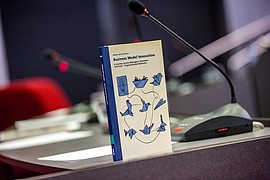 Business model innovation (BMI) is an emergent area of research with the potential to re-structure the pillars of strategy research. Despite the growing interest, the process of how business models change is not clearly described. In fact, only a few empirical studies explain the antecedents of BMI and we do not have a clear understanding of how companies combine external knowledge with internal capabilities for innovating. Moreover, scholars have not been able to describe the steps that managers undertake to innovate their business models. This Dissertation is aimed at addressing these gaps.
I find that networks in which companies are embedded function as learning environment for stimulating BMI. At the same time, I highlight specific network dynamics, characterizing BMI as a different phenomenon in respect to other innovation processes. Moreover, I address the analysis of the BMI process, showing the relevance of managers' attention. Finally, I also show the importance of managers' goal orientation, looking at how they are influenced by environmental and organizational contingencies. These findings derive from qualitative and quantitative studies conducted in the field of creative industries.
This Dissertation has the potential to contribute to research along three dimensions: (1) shedding light on the process of BMI, (2) exploring the relevance of managers' attention for business model innovation, (3) exploring the effectiveness of different BMI strategies.
Photos: Chris Gorzeman / Capital Images