PhD Defence: Colin Lee
---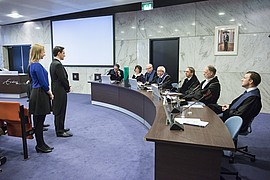 In his dissertation 'Big Data in Management Research: Exploring New Avenues' ERIM's Colin Lee explores the opportunities that Big Data brings for management scholars and describes three distinct projects that show how Big Data can be utilized in management research.
Colin defended his dissertation in the Senate Hall at Erasmus University Rotterdam on Friday, 11 March 2016 at 13:30. His supervisor was Prof.dr. Sławomir Magala and his co-supervisor was Dr. Will Felps. Other members of the Doctoral Committee were Prof.dr. Yehuda Baruch (Southampton University), Prof.dr. Dirk van Dierendonck (RSM), and Prof.dr. Paul G. W. Jansen (VU Amsterdam).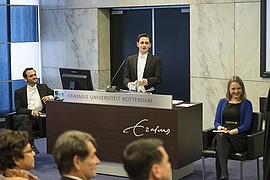 Colin Lee (1985) began his studies in Interdisciplinary Social Science at Utrecht University. After obtaining a Master's degree in Social Policy he moved to the Rotterdam School of Management for a second graduate degree as Master of Philosophy in Business Research and went on to pursue a PhD.
He conducts research on topics at the intersection of organizational behavior, human resources, and careers studies. Reflecting his interdisciplinary background, he makes use of recent developments in data extraction, normalization (i.e., standardization), storage, and processing in order to provide insight into how people match to work and offer tools that help improve the dissemination of academic research. His work has been published in the Journal of Vocational Behavior and Academy of Management Best Paper Proceedings. In 2014 one of his papers was nominated for the best student paper award of the Career Division and in 2015 he received the best student paper award for the Human Resource Division at the Academy of Management.
Before starting his PhD, Colin enjoyed a successful sporting career in Field Hockey, representing the Netherlands in the U16 youth squad and playing and coaching at a semi-professional level thereafter.
As of March 15th, 2016, Colin will be working as a Postdoctoral scholar at the Haskayne School of Business, at Calgary University in Canada.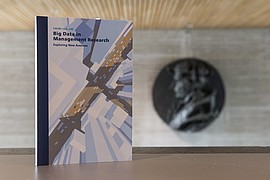 Digital computers entered our homes, landed on our desktops, slipped into our pockets, and have seemingly become ubiquitous. At an ever faster pace, these devices have become highly interconnected and interoperable. Consequently, our archives, our work, our actions, and our interactions are increasingly digitalized and stored in databases or made accessible via the Internet. This data, generally characterized by high volume, variety, and velocity (i.e., accumulation rate), has come to be called "Big Data". As of yet, Big Data has seldom been utilized in management research. Not without cause, the discussion in the management literature has barely surpassed deliberation on privacy risks. Nevertheless, there are many ways in which Big Data can contribute to management science in a responsible fashion. This dissertation explores the opportunities that Big Data brings for management scholars and describes three distinct projects that show how Big Data can be utilized in management research.
The first project demonstrates how science mapping, when applied to digital repositories of academic journals, can be used to provide a systematic review of an academic field. The second project describes an innovative and powerful platform called "ReNotate", which uses the highlights and annotations of individuals reading academic articles to make those articles machine-readable and thus highly searchable. The final project uses data from the Applicant Tracking Systems of 48 different companies (N = 441,769 applicants) to find out what determines whether an individual gets invited to a job interview.
· View and download Colin's dissertation
Photos: Chris Gorzeman / Capital Images