PhD Defence: Miriam Pocock
---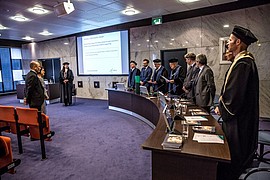 In her dissertation 'Status Inequalities in Business Exchange Relations in Luxury Markets', Miriam Pocock examines purchase exchanges between high status buyers and suppliers of lower status in luxury markets.
Miriam Pocock defended her dissertation in the Senate Hall at Erasmus University Rotterdam on Thursday, 6 April 2017 at 11:30. Her supervisor was Prof. Cees van Riel and her co-supervisor was Dr Guido Berens. Other members of the Doctoral Committee were Prof. Joep Cornelissen (Erasmus University Rotterdam), Prof. Gerrit van Bruggen (Erasmus University Rotterdam), and Dr Fabrizio Castellucci (Bocconi University).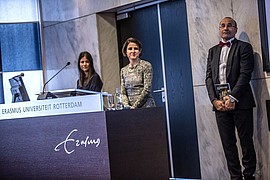 Miriam Pocock was born in Malta on the 12th April 1969. She was educated at the University of Malta, from where she obtained an honours Bachelor's Degree in Business Management (cum laude) and later a Master of Arts in Marketing. Following her studies, Miriam spent 18 years working full-time in industry and occupied a number of senior management positions in various sectors, to include: Maritime, Building Services and Insurance. During this time, Miriam was responsible for a number of initiatives. As Marketing Manager at the Malta Maritime Authority, she was involved in carrying out desk and field marketing research on several overseas markets including the Far East. At an international level, she was also actively engaged in organising and launching seminars to promote the Malta Ship Register. During the years she spent as General Manager for a Building Services Company, Miriam introduced ISO 9000 Standards and was also greatly involved in the development of business-to-business relations. As Head of Marketing at Citadel Insurance plc, Miriam was responsible for the Marketing and Sales activities of the company, including the company's corporate strategy, branding and management of the company's branch offices and direct sales force. Between 2000 and 2009, Miriam taught at the University of Malta, as a part-time lecturer in Marketing. Her main teaching study units included: consumer behaviour and B2B marketing. She was also engaged in several consultancy and training jobs in various industries to include fashion, food manufacturing, pharmaceuticals and cosmetics. In 2009, she joined the full-time resident academic staff, at the Faculty of Economics, Management and Accountancy at the University of Malta. In 2010, she commenced her doctoral studies at Rotterdam School of Management, Erasmus University. During this time Miriam lectured at the University of Malta. Main teaching areas include: Marketing Strategy, Product Management and Pricing. Miriam is married to Dr James Pocock and has one daughter, Elena.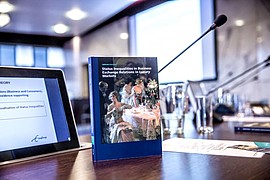 In this thesis we examine purchase exchanges between high status buyers and suppliers of lower status in luxury markets. While extant literature has treated status inequalities as an objective distinction in status rank, Study 1 on boat builders presents a novel approach towards conceptualising emerging status inequalities on the basis of the buyer's varying status salience at the impending exchange. Given contingent factors (purchase visibility; buyer status position; type of market uncertainty), we demonstrate this from the buyer's willingness to trade-off incumbent supplier status for improved product attributes from a lower status supplier.
Studies 2 and 3 address end-consumer evaluations of high status cars equipped with components of varying visibility from lower status suppliers. Results in general portray the end-consumers' higher preference towards acquiring improved components regardless of supplier status. When comparing lower status suppliers of unknown and of known reputation, consumers manifested a more favourable attitude towards high status cars which include low visibility components from new entrant suppliers. We moreover demonstrate effects of potential status transfer in the affiliation. In spite of their newness, unknown suppliers of ingredients of high visibility, benefit from a higher perceived reputation than similar suppliers of low visibility ingredients.
Photos: Chris Gorzeman / Capital Images