PhD Defence: Burcu Subasi
---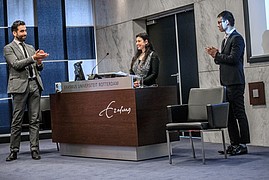 In her dissertation 'Demographic Dissimilarity, Information Access and Individual Performance', ERIM's Burcu Subasi studies the circumstances under which differences in nationality and gender affect individual performance.
Burcu defended her dissertation in the Senate Hall at Erasmus University Rotterdam on Thursday, 21 December 2017 at 13:30. Her supervisor was Prof. Daan van Knippenberg and her co-supervisor was Dr Wendy van Ginkel. Other members of the Doctoral Committee are Prof. Steffen Giessner (EUR), Prof. Gabriele Jacobs (EUR), Prof. Eric Kearney (University of Potsdam).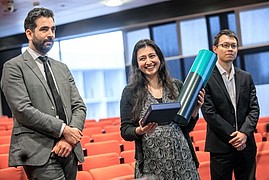 Burcu Subasi was born in 1984 in Izmir, Turkey. She received a scholarship from the Middle East Technical University fund and got her Bachelor of Science degree in Psychology with a High Honor distinction (the highest cum laude distinction). During her bachelor studies she spent a semester at the University of Groningen in the Netherlands, and did a summer school at the Humboldt university in Germany receiving scholarships from the Erasmus Exchange fund and the DAAD fund. During her bachelor program, she worked as a research assistant. Afterwards, she worked as a psychologist in a kindergarten and then in a rehabilitation center. Receiving a scholarship from the University of Groningen, she finished her research master program in Social and Organizational Psychology with a Cum Laude distinction while she was working as a student assistant during this time period. In 2012, Burcu started her Ph.D. at Rotterdam School of Management. Her research interests include relational demography (e.g., nationality dissimilarity and gender dissimilarity), status, information access/sharing, individual creativity and individual performance. She is mainly interested in the effects of nationality and gender dissimilarity on individual creativity and performance for individuals within a team. She examines the moderating and mediating processes behind these effects. During her Ph.D. program, Burcu attended summer schools at the University of Essex in the U.K. She supervised several bachelor and master students for their theses. She presented her work at various international conferences such as AOM and SIOP. Her work is currently under review at renowned international journals. She works as a post-doctoral researcher in the Department of Economics and Business at the University of Groningen.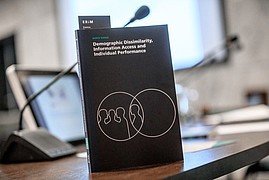 With growing nationality and gender diversity in organizations, the question under which circumstances differences in nationality and gender affect individual performance increases in importance. Previous research showed that dissimilarity may negatively affect individual performance. We take this analysis an important step further by suggesting number of moderators namely: status difference between nationality minorities, public observability, specific status and nationality diversity. We determine access to distributed information as a mediator in this effect.
Photos: Chris Gorzeman / Capital Images