prof.dr. S.R. (Steffen) Giessner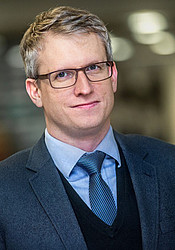 Full Professor
Rotterdam School of Management (RSM)
Erasmus University Rotterdam
Steffen R. Giessner is Professor of Organisational Behaviour and Change at the Rotterdam School of Management, Erasmus University (RSM).
He holds an MSc in Psychology from the University of Kent at Canterbury, UK, and a PhD in Psychology from the Friedrich-Schiller-University Jena, Germany. His research is located at the intersection of organizational psychology and management. His primary research topics are employee support during organizational merger, follower's perceptions of leadership, antecedents of leader behavior, and non-verbal communication of power. He has authored and co-authored papers in the areas of organizational behavior, management, and psychology. His research received media coverage in outlets like the New York Times, Financial Times, The Guardian, Harvard Business Review, Harvard Business Manager and Wall Street Journal. His most recent book on Leading with Presence addresses how one can develop the non-verbal aspect of leadership impact.
Work in Progress
M. Knoll, M. Götz, A. Adriasola, A. Al-Atwi, A. Arenas, K.A. Atitsogbe, S. Barrett, A. Bhattacharjee, N.D. Blanco C., S. Bogilović, G. Bollmann, J. Bosak, C. Bulut, M. Carter, M. Cerne, S. Chui, D. Di Marco, G. Duden, V. Elsey, M. Fujimura, P. Gatti, C. Ghislieri, S.R. Giessner, K. Hino, J. Hofmans, T.S. Jønsson, P. Kazimna, K.B. Lowe, J. Malagon Peren, H. Mohebbi, A. Montgomery, L. Monzani, A. Nederveen Pieterse, M. Ngoma, D. O'Shea, C. Lundsgaard Ottsen, E. Ozeren, J.L. Pickett, A.A. Rangkuti, S. Retowski, F.S. Ardabili, R. Shaukat, S.A. Silva, A. Šimunić, N.K. Steffens, F. Sultanova, D. Szücs, S.M. Tavares, A. Tipandjan, R. van Dick, D. Vasiljevic, S. Wong & H. Zacher (2021). International Differences in Employee Silence Motives: Scale Validation, Prevalence, and Relationships with Culture Characteristics across 33 Countries. Journal of Organizational Behavior, accepted.
Recognitions (6)
Editorial positions (5)
The Leadership Quarterly

Editorial Board

Journal of Occupational and Organizational Psychology

Editorial Board

Organizational Psychology Review

Editorial Board

Journal of Personnel Psychology

Editorial Board

Journal of Applied Psychology

Editorial Board
Organization Memberships
Academy of Management (AM)

Member
Course (1)
Past
Behavioural Foundations (2018/2019)
Award (1)
Fellowship - ERIM postdoc programme

(2004)
---
Address
Visiting address
Office: Mandeville Building T10-29
Burgemeester Oudlaan 50
3062 PA Rotterdam
Postal address
Postbus 1738
3000 DR Rotterdam
Netherlands