prof.dr. S.R. (Steffen) Giessner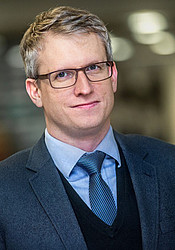 Full Professor
Rotterdam School of Management (RSM)
Erasmus University Rotterdam
Steffen R. Giessner is Professor of Organisational Behaviour and Change at the Rotterdam School of Management, Erasmus University (RSM).
He holds an MSc in Psychology from the University of Kent at Canterbury, UK, and a PhD in Psychology from the Friedrich-Schiller-University Jena, Germany. His research is located at the intersection of organizational psychology and management. His primary research topics are employee support during organizational merger, follower's perceptions of leadership, antecedents of leader behavior, and non-verbal communication of power. He has authored and co-authored papers in the areas of organizational behavior, management, and psychology. His research received media coverage in outlets like the New York Times, Financial Times, The Guardian, Harvard Business Review, Harvard Business Manager and Wall Street Journal.
Work in Progress
C.R. Ebersole, M.B. Mathur, E. Baranski, D. Bart-Plange, N.R. Buttrick, C.R. Chartier, K.S. Corker, M. Corley, J.K. Hartshorne, H. IJzerman, L.B. Lazarevic, H. Rabagliati, I. Ropovik, B. Aczel, L.F. Aeschbach, L. Andrighetto, J.D. Arnal, H. Arrow, P. Babincak, B.E. Bakos, G. Baník, E. Baskin, R. Belopavlović, M.H. Bernstein, M. Białek, N.G. Bloxsom, B. Bodroža, D.B.V. Bonfiglio, L. Boucher, F. Brühlmann, C. Brumbaugh, E. Casini, Y. Chen, C. Chiorri, W.J. Chopik, O. Christ, A.M. Ciunci, H.M. Claypool, S. Coary, M.V. Čolić, W.M. Collins, P.G. Curran, C.R. Day, B. Dering, A. Dreber, J.E. Edlund, F. Falcão, A. Fedor, L. Feinberg, I.R. Ferguson, M. Ford, M.C. Frank, E. Fryberger, A. Garinther, K. Gawryluk, K. Gerken, M. Giacomantonio, S.R. Giessner & ,. et al. (2019). Many Labs 5: Testing pre-data collection peer review as an intervention to increase replicability (in principle acceptance). Advances in Methods and Practices in Psychological Science.
Publications (53)
Book Contributions (7)
S.I.W. Wong, E. Solberg, P. Junni & S.R. Giessner (2016). The role of human resource management practices in mergers & acquisitions. In C..L. Cooper, S..Y. Tarba, R..M. Sarala & M..F. Ahammad (Eds.), Mergers and acquisitions in practice (pp. 138-161). New York: Routledge

G. Jacobs & S.R. Giessner (2014). Führung von Veränderungsprozessen: Die Bedeutung von Identität und der Umgang mit Widerstand. In J Felfe (Ed.), Trends der psychologischen Führungsforschung – Neue Konzepte, Methoden und Erkenntnisse (pp. 491-500). Hogrefe

S.R. Giessner & G. Jacobs (2014). Identität und Prototypikalität. In J. Felfe (Ed.), Trends der psychologischen Führungsforschung – Neue Konzepte, Methoden und Erkenntnisse (pp. 117-128). Hogrefe

S.R. Giessner, J. Ullrich & R. van Dick (2012). A Social Identity Analysis of Mergers & Acquisitions. In D. Faulkner, S. Teerikangas & R. Joseph (Eds.), Handbook of Mergers & Acquisitions (pp. 474-495). Oxford: Oxford University Press

S.R. Giessner (2009). Diskriminierung und Toleranz bei Unternehmensfusionen. In Andreas Beelman & Kai Jonas (Eds.), Diskriminierung und Toleranz: Psychologische Grundlagen und Anwendungsperspektiven (pp. 399-418). Wiesbaden: VS Verlag für Sozialwissenschaften

D. van Knippenberg, B. van Knippenberg & S.R. Giessner (2007). Extending the follow-centered perspective: Leadership as an outcome of shared social identity. In B Shamir, R. Pillai, M.C. Bligh & M. Uhl-Bien (Eds.), Follower-centered perspective on leadership: A tribute to the memory of James R. Meindl (pp. 51-70). Greenwich: Information Age Publishing

S.R. Giessner (2003). Eine Intergruppenperspektive auf Unternehmensfusionen [An intergroup perspective on organizational mergers]. In J. Straehle (Ed.), Interkulturelle Mergers & Acquisitions. Eine interdisziplinare Perspektive [Intercultural merger and acquisitions. An interdisciplinary perspective] (pp. 168-194). Berlin: Sternenfels
Professional Publications (8)
M.H. van Dijke, S.R. Giessner, R. Van Tulder & R.I. Gilbert (2014).

What value ethical leadership? RSM Discovery - Management Knowledge, 18

(2), 8-11.

N. van Quaquebeke, T. Eckloff, S. Zenker & S.R. Giessner (2009). Leadership in the Eye of the Beholder: Cognitive Construction, Recognition, and Interpretation of Leadership. Personalfuhrung, 1, 34-41.
Recognitions (6)
Editorial positions (5)
Journal of Applied Psychology

Editorial Board

Journal of Occupational and Organizational Psychology

Editorial Board

The Leadership Quarterly

Editorial Board

Journal of Personnel Psychology

Editorial Board

Organizational Psychology Review

Editorial Board
Organization Memberships
Academy of Management (AM)

Member
Courses (2)
Past
Behavioural Foundations (2018/2019, 2017/2018)
High Performance Leadership (2017/2018)
Award (1)
Fellowship - ERIM postdoc programme

(2004)
---
Address
Visiting address
Office: Mandeville Building T10-29
Burgemeester Oudlaan 50
3062 PA Rotterdam
Postal address
Postbus 1738
3000 DR Rotterdam
Netherlands