PhD Defence: Amanda Williams
---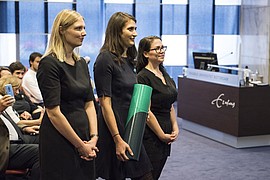 In her dissertation 'Make Our Planet Great Again: A Systems Perspective of Corporate Sustainability, Amanda Williams aims to advance our understanding of sustainability management by leveraging a systems thinking lens.
Amanda Williams defended her dissertation in the Senate Hall at Erasmus University Rotterdam on Friday, October 12 at 11:30. Her supervisors are Dr. Steve Kennedy(RSM) and Prof. Gail Whiteman(Lancaster University). Other members of the Doctoral Committee are Prof. Minna Halme(Aalto University), Prof. Robert Gephart(University of Alberta), Dr. Rodney Irwin(WBCSD Leuphana), Prof. Taco Reus(RSM) and Prof. Joep Cornelissen(RSM).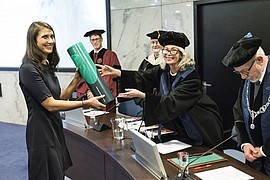 Amanda joined the Erasmus Research Institute of Management (ERIM) and started her PhD at Rotterdam School of Management (RSM) in July 2013. She also joined the Marie Curie Initial Training Network, Innovation for Sustainability (I4S) at the same time. As part of the I4S project, she collaborated with the World Business Council for Sustainable Development (WBCSD) where she joined the Redefining Value team and conducted field research for her PhD. During the last year of her PhD, Amanda was delighted to join the Force for Positive Change Initiative at RSM as an academic advisor.
Amanda's main research interest is at the intersection of sustainability management and social-ecological systems. She first became interested in sustainability while studying graphic media marketing during her bachelor's degree at Rochester Institute of Technology (RIT). RIT at the time was launching greening initiatives around campus. These initiatives caught Amanda's attention and led her to pursue a career in sustainability, although she still enjoys design.
During her PhD, she presented her work at various conferences. She presented at the Academy of Management (AOM) Annual Meeting (2014-2017) and the European Group for Organizational Scholars (EGOS) (2014-2016). She presented her work at several transdisplinary sustainability conferences including Resilience 2017 and the Program on Ecosystem Change and Society (PECS) 2015. She published the second chapter of her dissertation in the Journal of Cleaner Production.
Prior to her doctoral studies, Amanda lived in Paris, France for 3 years while pursuing a Master's degree and exploring different cultures. Before that she lived in Rochester, New York where she earned a Bachelor's degree and an MBA in Environmentally Sustainable Management at RIT. Amanda was born in a hospital in Auburn, New York on June 9, 1986. She grew up in the neighboring town of Skaneateles, New York where she spent the winters skating and the summers swimming in the blue beautiful lake.
Outside of conducting research, Amanda is passionate about spending time in nature while hiking. She also enjoys swimming, yoga and climbing. She has over 50 different plants that she enjoys to water and watch change with the seasons.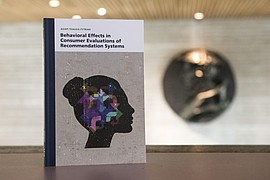 This dissertation aims to advance our understanding of sustainability management by leveraging a systems thinking lens. In Chapter 1, I introduce corporate sustainability research to position the contribution of this dissertation. Chapter 2 reviewed the literature at the intersection of sustainability management and a systems perspective. We identified and described 5 core theoretical concepts (interconnections, feedbacks, adaptive capacity, emergence and self-organization) and 9 research themes (behavioral change, leadership, innovation, industrial ecology, social-ecological systems, transitions management, paradigm shifts and sustainability education). Chapter 3 argued that the existing literature on resilience in management journals focuses primarily on the resilience at the organizational level, and develops a cross-scale perspective. Chapter 4 proposed that that organizational studies of risk can benefit from natural science insights on systemic ecosystem risks at the planetary scale and develops a three-phase framework for understanding systemic ecosystem risks. Chapter 5 draws on a qualitative ethnography to understand how social-ecological sustainability frameworks are utilized as a systemic basis for collective strategic planning and communication in a global business association. Chapter 6 concludes the dissertation by providing a synthesis of the chapters and managerial implications.
Photos: Hans / Capital Images