PhD Defence: Eugina Leung
---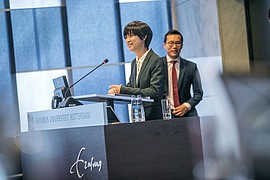 In her dissertation 'How Technology Shapes Consumption: Implications for identity and judgement' Eugina Leung examines how technology affects the way we form our sense of self and update our beliefs.
Eugina Leung defended her dissertation in the Senate Hall at Erasmus University Rotterdam on Thursday, 27 June 2019 at 09:30. Her supervisors were Prof. Stefano Puntoni (RSM) and Dr. Gabriele Paolacci (RSM). Other members of the Doctoral Committee are Prof. Jennifer Argo (University of Alberta), Dr Robert Rooderkerk (RSM) and Dr. Bram van den Bergh (RSM).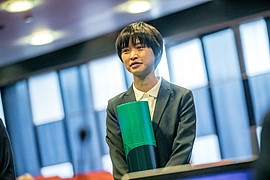 Eugina Leung was born in Hong Kong on September 15, 1989. She received her Bachelor degree in Business Administration from Hong Kong University of Science and Technology (first class honors, double major in Finance and Operations Management). She received her MS degree in Economics from Universitat Pompeu Fabra. In 2014, she started her PhD research in Marketing at the Erasmus Research Institute in Management. She was a visiting research scholar at the Booth School of Business, University of Chicago (August to December 2017) and University of Zurich (April to May 2019). Her work explores how technology hinders identity-based consumption and the influence of technology on consumer judgment. As a side research interest, she also investigates the role of language and culture in consumer response. Her work has been published in the Journal of Marketing Research and she has presented her research at major international conferences (e.g. the Association for Consumer Research, European Marketing Academy conferences, International Convention of Psychological Science). In July 2019, Eugina will start working as an Assistant Professor of Marketing at A.B. Freeman School of Business, Tulane University.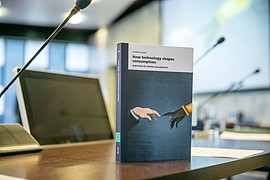 The goal of this dissertation is to explore the interplay between technology and consumer behavior. Specifically, it examines how technology affects the way we form our sense of self and update our beliefs.
Chapter 2 tests the role of identity in preferences for automated products, such as automatic transmission in driving or cooking machines in cooking. Although automation often provides obvious consumption benefits, six studies spanning a variety of product categories demonstrate that individuals who strongly identify with a particular social category resist automated features when these features hinder the attribution of identity-relevant consumption outcomes to oneself.
Chapter 3 examines how search engines shape belief updating. People increasingly rely on search engines to answer their questions (e.g., health, financial, political). A series of studies show that people's beliefs are biased by the search terms they use and broadening searches leads to greater and more comprehensive updating of consumers' beliefs.
Chapter 4 investigates the role of identity in preference for material products. Many products are dematerializing (e.g., e-books, digital music download). However, despite the indisputable benefits of dematerialization, we find that material products (e.g., physical books) are better able to provide identity benefits than immaterial products (e.g., e-books), and identity-motivated consumers have a relative preference for material products.
Chapter 5 argues that technology can both facilitate and hinder the process of self-verification—that is, how people monitor their progress toward being a particular type of person. Five different technological domains are explored, namely, Internet, dematerialization, automation, artificial intelligence, and human enhancement.
Photos: Chris Gorzeman / Capital Images