ERIM PhD Defence Katrin Smolka
---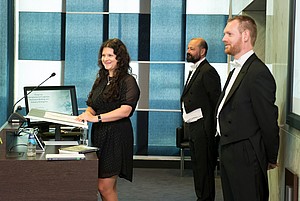 In her dissertation 'Essays on Entrepreneurial Cognition, Institution Building and Industry Emergence' Katrin Smolka investigates ways in which entrepreneurs deal with uncertainty, how institutions emerge and what stimulates innovation, especially in environments driven by technological change.
Katrin Smolka defended her dissertation in the Senate Hall at Erasmus University Rotterdam on Thursday, 5 September 2019 at 11:30. Her supervisors were Prof. Pursey Heugens (RSM) and Prof. Joep Cornelissen (RSM). Other members of the Doctoral Committee are Prof. Marc Gruber (EPFL Lausanne), Prof. Vareska van de Vrande (RSM) and Dr. Joel Gehman (University of Alberta).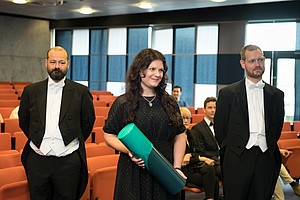 Katrin M. Smolka was born in Hamburg, Germany. She holds a Bachelor's degree in Tourism Management (cum laude) from NHTV Breda (now: Breda University of Applied Sciences), the Netherlands, and a Master's degree in Entrepreneurship and New Business Venturing from Rotterdam School of Management (RSM), Erasmus University, the Netherlands. After graduation, she joined the Department of Strategic Management and Entrepreneurship at RSM as lecturer and researcher. During that time, Katrin started working on her PhD dissertation to investigate ways in which entrepreneurs deal with uncertainty, how institutions emerge and what stimulates innovation, especially in environments driven by technological change. In doing so, she mainly focused on a new and emerging industry, namely the industry for remotely piloted aircraft systems (commonly known as drones). Katrin also spent three months on a research visit at Kühne Logistics University, Germany.
Katrin's research interests cover entrepreneurial decision-making under uncertainty, cognition and start-up behavior as well as industry emergence, institutional work and innovation more broadly. Her research output was presented at several scientific conferences in the field, for example at the Babson College Entrepreneurship Research Conference (BCERC), the Academy of Management (AOM) Annual Meeting or the Organization Science Winter Conference. Katrin was also invited to present her research at industry conferences. The first study of her dissertation is published in Entrepreneurship Theory & Practice, one of the leading journals in the field of entrepreneurship.
In her work as lecturer, Katrin was given the opportunity to gain valuable experiences in the classroom, through managing, coordinating and teaching large-scale courses. She taught in both the Dutch and the international BSc Business Administration program. In particular, she was responsible for the course Strategic Business Plan where more than 1,200 students annually developed a business strategy for a real-life small or medium sized company. Next to classes in strategic management, Katrin contributed to a variety of entrepreneurship courses. Additionally, she supervised several master theses and bachelor internships.
Besides academic research and teaching, Katrin was actively engaged in committee work aimed at monitoring and improving the quality of RSM's Bachelor programs. She annually organized and hosted the Strategic Business Plan Awards, a business plan competition for first-year students at RSM, and was part of the local organizing team of the European Group for Organizational Studies' (EGOS) flagship conference in 2014.
Katrin currently works as Assistant Professor in the Entrepreneurship and Innovation Group at Warwick Business School, University of Warwick in the United Kingdom.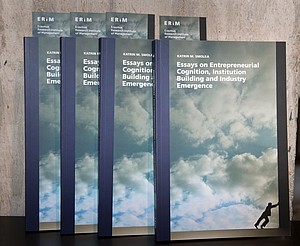 Entrepreneurship fosters innovation. It is a key driver of economic development, growth and job creation, while also creating opportunities for new products, services, business models, as well as for new markets to be developed. Entrepreneurship is essential not only to leading economies, but also a driver for positive change in the world. In order to capture the multifaceted face of entrepreneurship, the three studies in this dissertation answer three research questions, which are aimed at studying entrepreneurship and innovation at different levels.
To start with, I focus on the micro level and consider how entrepreneurs' decision-making logics impact venture performance. I find that ventures benefit most when an entrepreneur is using two entrepreneurial logics – planning-focused causation and action-oriented effectuation – in tandem. Next, I focus on the meso level and examine how regulatory proto-institutions arise in technological innovation-intensive and behavioral change-prone organizational fields. I find that regulatory proto-institutions in nascent industries tend to result from dialectic institutional work in the form of structured interactions between entrepreneurs and regulators. New regulatory structures evolve in contexts where high levels of technological and behavioral change induce systemic uncertainty and enlarge the interdependence between entrepreneurs and regulators. Lastly, I focus on the macro level and investigate how the military supports civil innovation institutions to develop market-ready products. I find that the military, as a previously overlooked institution, plays an integral role in civil innovation around the globe. Although some public and private institutions help bring innovation to the market, the military is an even stronger driver for a country's innovative strength in the civil sector.
Photos: Michelle Muus