A.A. (Agnieszka) Genc MSc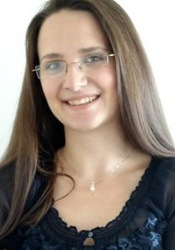 Rotterdam School of Management (RSM)
Erasmus University Rotterdam
ERIM PhD Candidate
Field:
Strategy & Entrepreneurship
Affiliated since 2013
Agnieszka is a PhD candidate at RSM Erasmus University in the Strategic Management & Entrepreneurship Department. Her research interests focus on organizational innovation, more specifically she studies the non-technological types of innovations (management and business model innovation), their determinants and impact on firm's outcomes. 
Agnieszka holds a Bachelor and a Master of Science in Management from Otto-von-Guericke University in Germany, a Master of Science in Educational Human Resource Development from Texas A&M University in the USA and a Master of Philosophy in Business Research from ERIM.
---
PhD Track Discovering the Determinants of Business Model and Management Innovation
This dissertation explores the drivers of business model and management innovation. First, studying an industry transformation may be useful in understanding the business model innovations therefore, by implementing two large-scale, longitudinal studies, the managerial determinants (i.e. differences in board of directors and top management teams' human and social capital) are set in the context of differences among the early versus late adopters of business model innovation in the publishing industry. Second, by combining the organizational learning and the upper-echelons insights, in the third empirical study I will assess the role of external knowledge sources in business model innovation and explore their connections with intra-organizational factors (i.e. decentralization and transformational leadership). I argue that both the external influences (i.e. access to external knowledge) and the intra-organizational factors should be studied in interaction to understand their effect on innovative outcomes. Third, I examine for the first time how dynamic capabilities affect a firm's performance by influencing the ability to introduce management innovations-the introduction of new-to-the-firm systems, structures, and practices. I add to the understanding of the integrative approach of different innovation types by arguing that there is a positive effect of dynamic capabilities on management innovation, which then facilitates a firm's effort to introduce product or service innovations of both the exploitative and exploratory type, and enhances firm's performance.
Keywords

Business model innovation, management innovation, board of directors, TMTs, human capital, social capital, external knowledge sources, dynamic capabilities

Time frame

2014 -
---
Address
Visiting address
Office: Mandeville Building T07-56
Burgemeester Oudlaan 50
3062 PA Rotterdam
Postal address
Postbus 1738
3000 DR Rotterdam
Netherlands