Dr. D. (Dirk) Deichmann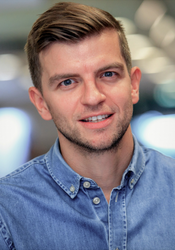 Rotterdam School of Management (RSM)
Erasmus University Rotterdam
Member ERIM
Field:
Logistics & Information Systems
Affiliated since 2007
Dirk Deichmann is an Associate Professor at Rotterdam School of Management, Erasmus University and the Treasurer of the Department of Technology and Operations Management. In his research he focuses on the determinants and consequences of creative and innovative behavior, with particular emphasis on the question of how sustained and successful idea generation, development, and implementation can be achieved. Find here a link to his CV.
Publications
Article (30)
Academic (10)

Professional (20)

Schootstra, E., Deichmann, D., & Dolgova, E. (2017). Can 10 minutes of meditation make you more creative? HBR OnPoint Magazine, Spring, 26-27.

Schootstra, E., Deichmann, D., & Dolgova, E. (2017). Can 10 minutes of meditation make you more creative? HBR OnPoint Magazine, Spring, 26-27.

Deichmann, D. (2017). Design thinking: making user happiness the metric for success. RSM Discovery - Management Knowledge, 29(1), 18-19. http://hdl.handle.net/1765/98615

Deichmann, D. (2016). Minicursus designloodsen. Dude (Dutch Designers Magazin), 1, 52-53.

van den Ende, J., & Deichmann, D. (2015). Hoe krijg ik goede ideeën van mijn medewerkers? Holland Management Review, 32, 60-64.

Deichmann, D., & van den Ende, J. (2014). A radical approach to radical innovation. RSM Discovery - Management Knowledge, 18(2), 12-13. http://hdl.handle.net/1765/77105
Book (1)
Academic (1)

Cattani, G., Deichmann, D., & Ferriani, S. (2022). The generation, recognition and legitimation of novelty. Emerald Publishing Limited. Research in the Sociology of Organization Vol. 77
Chapter (1)
Academic (1)

Cattani, G., Deichmann, D., & Ferriani, S. (2022). Novelty: Searching for, seeing, and sustaining it. In G. Cattani, D. Deichmann, & S. Ferriani (Eds.), The generation, recognition and legitimation of novelty (pp. 3-23). Emerald Publishing Limited. Research in the Sociology of Organizations Vol. 77 https://doi.org/10.1108/S0733-558X20220000077002
Conference proceeding (3)
Academic (3)

Szatmari, B., Deichmann, D., & van den Ende, J. (2014). Irrational resistance or irrational support? Performance effects of project leader status. In Academy of Management Proceedings https://doi.org/10.5465/AMBPP.2014.200

Moser, C., Birkholz, JM., Deichmann, D., Hellsten, I., & Wang, S. (2013). Exploring ideation: Knowledge development in science through the lens of semantic and social networks. In Proceedings of the 46th Hawaii International Conference on System Sciences (pp. 235-243). IEEE. https://doi.org/10.1109/HICSS.2013.218

Groenewegen, M., Stoyanov, D., Deichmann, D., & van Halteren, A. (2012). Connecting with active people matters: The influence of an online community on physical activity behavior. In Lecture Notes in Computer Science (Vol. 7710, pp. 96-109). Springer. https://doi.org/10.1007/978-3-642-35386-4_8
Doctoral Thesis (1)
Internal (1)

Deichmann, D. (2012). Idea Management. Perspectives from Leadership, Learning, and Network Theory. Eramus University Rotterdam. http://hdl.handle.net/1765/31174
Additional activities (8)
Academy of Management Review (Journal)

Editorial work (Academic)

Journal of Management (Journal)

Editorial work (Academic)

Organization Studies (Journal)

Editorial work (Academic)

Journal of Management Studies (Journal)

Editorial work (Academic)

Organization Science (Journal)

Editorial work (Academic)

Creativity and Innovation Management (Journal)

Editorial work (Academic)

Administrative Science Quarterly (Journal)

Editorial work (Academic)

Journal of Product Innovation Management (Journal)

Editorial work (Academic)
PhD Tracks (3)

Role: Co-promotor
PhD Candidate: Balazs Szatmari
Time frame: 2012 - 2016

Role: Daily Supervisor
PhD Candidate: Ivo Esseveld
Time frame: 2015 -

Role: Daily Supervisor
PhD Candidate: Lydia Gross
Time frame: 2020 -
Award (1)
ERIM Top Article Junior Award

(2015)
---
Address
Visiting address
Office: Mandeville Building T09-56
Burgemeester Oudlaan 50
3062 PA Rotterdam
Postal address
Postbus 1738
3000 DR Rotterdam
Netherlands