dr. D. (Dominik) Gutt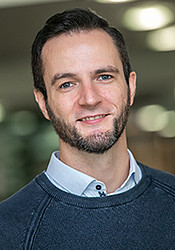 Rotterdam School of Management (RSM)
Erasmus University Rotterdam
Associate Member ERIM
Field:
Logistics & Information Systems
Affiliated since 2019
Dominik Gutt is Assistant Professor of Business Information Management at the Department of Technology and Operations Management at Rotterdam School of Management, Erasmus University. He obtained his PhD from Paderborn University in May 2019 and joined RSM in September 2019 (CV).
Dominik's research interest focus on Electronic Word-of-Mouth, in particular on customer behavior and interaction and platform design. Moreover, he works on Data-Driven Digital Transformation and analyzes, for instance, how data can be leveraged as a strategic resource and how it can be used in novel disruptive industries such as the sharing economy.
His work has been published in well-reputed peer-reviewed journals including Information Systems Research. His work has also been presented in leading Information Systems and Economics conferences including the National Bureau of Economic Research (NBER) Summer Institute and the Conference on Information Systems and Technology (CIST).
Work in Progress (7)
A. Kupfer, D. Gutt, D. Kundisch & S. Zimmermann (2021). Gamify My Review System: Stimulating Online Reviews with Nonfinancial Rewards (Under review).
J. Foerderer & D. Gutt (2021). The Effects of Platform Superstars on Content Production: Evidence from Ninja (Under review).
W. Khern-am-nuai, Y. Yu & D. Gutt (2021). Review Helpfulness Score vs. Review Unhelpfulness Score: Two Sides of the Same Coin or Different Coins? (under review).
J. Neumann, D. Gutt & D. Kundisch (2020). Reviewing from a Distance – Uncovering the Negativity Bias of Psychological Distance in Online Word of Mouth (Major Revision, Second Round Resubmission Requested).
M. Müller, J. Neumann, D. Gutt & D. Kundisch (2020). Toss a Coin to Your Host – How Guests End up Paying for the Cost of Regulatory Policies.
D. Tsekouras, D. Gutt & I. Heimbach (2020). The Rise of Robo-Reviews – The Effects of Chatbot-mediated Review Elicitation on Online Reviews (Under Review).
D. Gutt, J. Neumann, W. Jabr & D. Kundisch (2020). The Fate of the App – Economic Implications of Updating under Reputation Resetting (Reject with opportunity for resubmission at ISR).
---
Address
Visiting address
Office: T09-54
Burgemeester Oudlaan 50
3062 PA Rotterdam
Postal address
Postbus 1738
3000 DR Rotterdam
Netherlands